Online Bachelor's Degree in Exercise & Sport Science
Excel in Exercise & Sport Science with an Online Degree from MU
Duration

2.5-4 years

Cost per Credit

$400

Credit Hours

124
Program Benefits
100% online and asynchronous
No application fee
Transfer up to 93 semester hours
Eight-week sessions
Hands-On Learning for an Affordable Degree
Methodist University's BS in Exercise & Sport Science utilizes small class sizes and immersive learning to help you build the foundational knowledge and skills necessary for a successful career.
In online courses led by a dynamic faculty, you'll explore exercise technique, human nutrition, strength and conditioning, and more. MU offers a convenient online format and simple application process with no application fee and transfer credits accepted.
Launch a Rewarding Career in Sports Science
Upon graduation from MU's online exercise and sport science degree program, you'll qualify for a range of careers in this growing industry. The knowledge and skills you gain by completing your bachelor's degree can lead to roles in athletic training, sports psychology, exercise science, ergonomics, occupational therapy, fitness training, nutrition, and more. On average, individuals with a BS in Exercise & Sport Science earn $64,000 per year.1
Careers and Salaries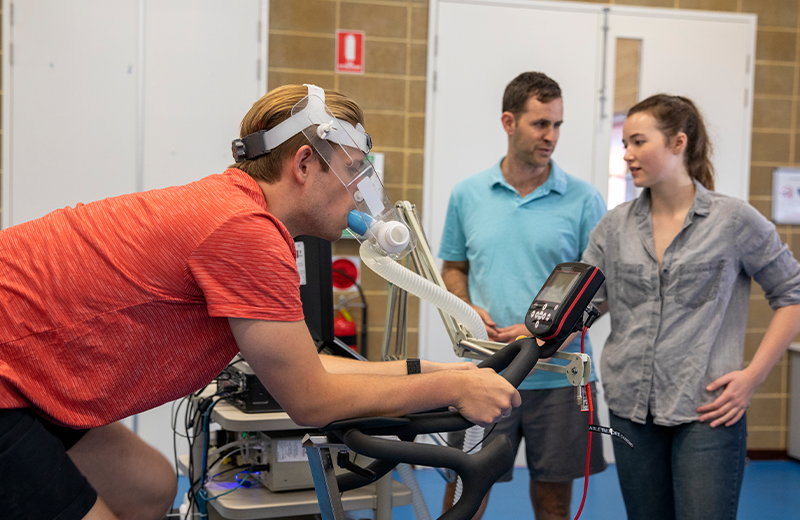 Curriculum: Practical Learning for Real-World Skills
Methodist University's online BS in Exercise & Sport Science program delivers a rigorous curriculum designed to equip you with a deep understanding of human exercise and nutrition. Through asynchronous online courses, you'll explore exercise science topics including human anatomy, sport psychology, biomechanics, emergency care, and more.
Preview Courses
Admissions Requirements
To apply for the online BS in Exercise & Sport Science from Methodist University, you'll need:
A high school diploma or GED
Official transcripts (if you have transfer credits) and a high school transcript or GED transcript
View Requirements
Tuition Details
The 100% online BS in Exercise & Sport Science degree costs $400 per semester hour and has 124 total semester hours. 97% of MU students qualify for financial aid. If you or a family member are a veteran or active-duty service member, your education at Methodist University could be even more affordable. Visit our Military Support page to learn more.
Tuition and Fees
Enjoy an online learning environment that offers the same quality as in-person courses, including dedicated faculty members and an overall caring, friendly atmosphere for achieving your professional and personal goals.
You'll also have access to all of MU's academic support services. That means you'll get personalized assistance you need, such as access to the tutoring and writing centers. Experience a distinctive education in a flexible environment that fits your schedule.
Explore Online Learning
You can earn a high-quality education from a private institution without worrying about the cost. As a Yellow Ribbon school and a university where 97% of students qualify for financial aid, Methodist is committed to affordability.
Learn more about federal student loans and grants, military benefits, and scholarship opportunities. We're proud to make your goals as affordable as possible.
Financial Aid Options
Source
Bachelor of Science (BS/BSc), Exercise and Sport Science." Payscale. Retrieved on October 7, 2022, from https://www.payscale.com/.