Online Associate Degree in General Studies
Earn MU's 100% Online Associate of Arts Degree in General Studies
Request More Information
If you'd like to learn more about Methodist University's application process, admissions requirements, tuition and financial aid or specific program details, fill out this form, and we'll be in touch shortly.
Duration

2 years

Cost per Credit

$435

Credit Hours

62
Program Benefits
Part-time and full-time options
Eight-week terms
Now accepting applications – no application fee
Benefits available for military-affiliated students
Enter the Job Market with Well-Rounded Knowledge and Skills
Career readiness begins with foundational learning, computer knowledge, and effective communication skills. Get all three with Methodist University's 100% Online Associate of Arts degree, along with expert faculty who will support your educational journey.
You'll benefit from a flexible online format, liberal arts coursework, and professors who provide opportunities for spiritual, academic, and social growth. Methodist University will ensure that your mind is enlightened and your thirst for knowledge continues long after graduating.
In addition, you'll receive support through career workshops, readiness tools, résumé and cover letter assistance, mock interviews, and our MU Career Hub to seek out job announcements and event registration to land a role that kickstarts your career.
Career Outlook: Gain the Skills to Advance Your Professional Profile
The wide-ranging applications of the online associate of art degree in general studies provide the opportunity to chart your own professional future across an array of industries. There are 1,673,600 bookkeeping, accounting, and auditing clerk positions as of 2019, and those in the position can expect to earn an average salary of $41,230.1
Careers and Salaries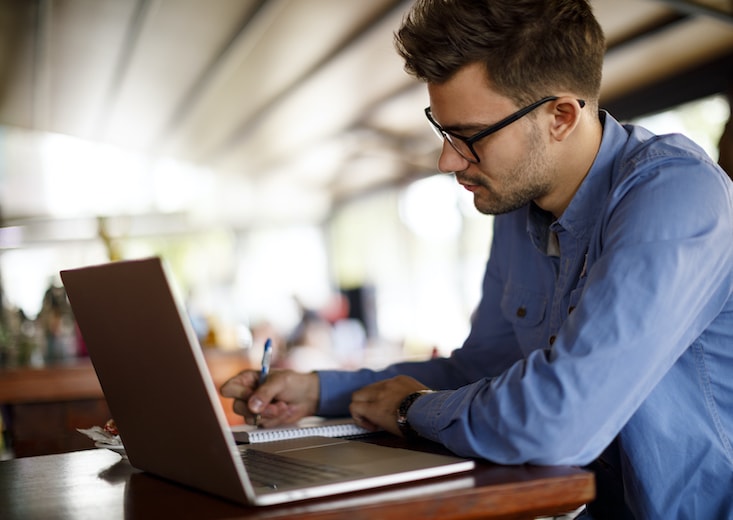 Curriculum: Practical Skills for a Modernizing Economy
The curriculum of the online associate degree in general studies focuses on an interdisciplinary approach to best prepare you for professional, personal, and academic growth. Gain skills in computer technology, critical thinking, and communication through a wide-ranging curriculum that encompasses mathematics, humanities, natural and social sciences, wellness, and fine arts.
Preview Courses
Program Outcomes
In this program, you will learn to:
Apply a critical-thinking framework to problem-solving.
Understand the basic principles in computer technology.
Write and communicate across academic disciplines with research.
Engage with a variety of competencies integral to success in the 21st century.
Admissions Requirements
To apply for the 100% online Associate of Arts Degree in General Studies from Methodist University, you'll need:
A high school diploma or GED
Official transcripts (if you have transfer credits) and a high school transcript or GED transcript
View Requirements
Tuition Details
The online general studies associate's degree costs $435 per credit hour and has 62 total credit hours. Learn more about the affordability and value of your education at Methodist University. If you or a family member are a veteran or active-duty service member, visit our Military Support page.
Tuition and Fees
Enjoy an online learning environment that offers the same quality as in-person courses, including dedicated faculty members and an overall caring, friendly atmosphere for achieving your professional and personal goals.
You'll also have access to all of MU's academic support services. That means you'll get personalized assistance you need, such as access to the tutoring and writing centers. Experience a distinctive education in a flexible environment that fits your schedule.
Explore Online Learning
You can earn a high-quality education from a private institution without worrying about the cost. As a Yellow Ribbon school and a university where 97% of students qualify for financial aid, Methodist is committed to affordability.
Learn more about federal student loans and grants, military benefits, and scholarship opportunities. We're proud to make your goals as affordable as possible.
Financial Aid Options
You can complete the program in as few as two years.
The online AA in General Studies is available in both part-time and full-time options. Call 910-212-4956 to speak with a knowledgeable counselor dedicated to personalizing your enrollment experience.
With more than 97% of students receiving significant financial aid, very few pay the full "sticker price" tuition fee of $26,970, making the value of an MU degree unmatched. The estimated $26,970 does not include fees or other costs you may incur. A variety of scholarships are available for Methodist University's online programs.
For more information about tuition, additional costs, and financial aid options, please visit our tuition page.
*This is an estimate of the total tuition based on the current school year and is subject to change.
Yes, the online degree is regionally accredited by the Southern Association of Colleges and Schools Commission on Colleges (SACSCOC).
To gain admission into the program, you must provide:
High school diploma or GED
Transcripts
Learn more about the admissions process on our admissions page.
There are a total of 62 credit hours.
Visit our FAQ page