Online Bachelor of Science in Computer Information Technology
Take a Systematic Approach with a
BS in Computer IT Degree
Transfer up to 93 Semester Hours
Learn More Today
Complete the form to learn more about this program.
Duration

3.5 years

Cost per Credit

$400

Credit Hours

124
Program Benefits
Small student-to-teacher ratio
Prep for in-demand IT roles with high earnings
Master programming languages
Eight-week sessions
Discover Solutions to Problems as a Competent IT Professional
The demand for IT business professionals is exceptionally high, and a BS in Computer Information Technology degree from Methodist University will prepare you with the hands-on training you need to enter various roles.
Your courses are consistent with nationally accredited programs, addressing the technological needs of the 21st century. Tailor your learning with numerous electives, or pursue a minor without extending your graduation date.
This 100% online IT degree provides a business information systems concentration you'll leverage to stand out among others with combined computer and business skills to create useful applications and solve real-world problems. Get ready to enter business systems, computer science, accounting, and information technology roles.
Career Outlook: Qualify for In-Demand Positions
Prepare to enter a career field that the Bureau of Labor Statistics projects will grow 11% from 2019 to 2029 — nearly three times the rate for all occupations.1 After graduation, you will be ready for numerous in-demand roles, including database developer, which has a median salary of $93,750.2
Careers and Salaries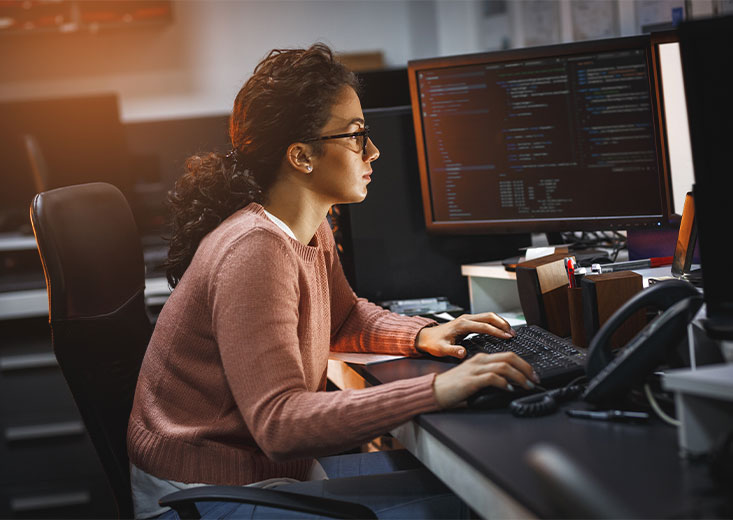 Curriculum: Build a Mix of Technical and Business Skills
Develop as a dynamic professional through a curriculum that focuses on technical and business competencies. The business information systems concentration will teach you to innovate solutions that deliver a return on investment. The program culminates with a capstone project in which you'll create a portfolio-caliber application that solves a real-world challenge.
Preview Courses
Program Outcomes
Join the online BS in Computer Information Technology program to:
Gain knowledge of computer science and other technologies that spur business growth.
Acquire the technical skills needed for a career in database development and related fields.
Learn to solve business challenges by developing as a systematic problem-solver.
Get an introduction to Java, C++, Visual Basic, and other programming languages.
Bolster your technical knowledge through a study of core business topics.
Minors
Enhance your degree by adding one of three available 100% online minors — Accounting, Business Administration, and Marketing. Our minors are structured to help you advance in the career path you want most and impress potential employers with your dedication to learning.
To learn more about our minors and how you can add one to your degree, visit our minors webpage. You can also request more information about a minor or contact an enrollment counselor directly at 910.212.4956.
Explore Minors
Admissions Requirements
To apply for Methodist University's online computer information technology degree program, you'll need:
A high school diploma or GED
Official transcripts (if you have transfer credits) and a high school transcript or GED transcript
View Requirements
Tuition Details
The tuition for Methodist University's online computer information technology degree program is $400 per semester hour. You will accrue 124 semester hours to earn this degree. Learn more about the affordable, impactful education you will experience at Methodist University. If you or a family member are a veteran or active-duty service member, visit our Military Support page.
Tuition and Fees
Enjoy an online learning environment that offers the same quality as in-person courses, including dedicated faculty members and an overall caring, friendly atmosphere for achieving your professional and personal goals.
You'll also have access to all academic support services. That means you'll get personalized assistance you need, such as access to the tutoring and writing centers. Experience a distinctive education in a flexible environment that fits your schedule.
Explore Online Learning
You can earn a high-quality education from a private institution without worrying about the cost. As a Yellow Ribbon school and a university where 97% of students qualify for financial aid, Methodist is committed to affordability.
Learn more about federal student loans and grants, military benefits, and scholarship opportunities. We're proud to make your goals as affordable as possible.
Financial Aid Options
You can complete this online program in three to five years. To help you graduate faster, Methodist University accepts up to 93 transfer credits from a regionally accredited university. Explore more details on the admissions page.
This flexible program is available in full- and part-time formats. Choose the format that works best for you, with the option to continue working as you earn this degree. To review the curriculum for this online program, visit the courses page.
The program's total tuition is $49,600, and the cost per semester hour is $400. This estimate does not include fees or other costs you may incur. More than 97% of students receive significant financial aid to reduce the "sticker price" of $49,600, which raises the value of your BS in Computer Information Technology degree. Plus, numerous scholarships are available for Methodist University's online programs.
For more information about tuition, additional costs, and financial aid options, please visit our tuition page.
To gain admission into the program, you must provide:
A high school diploma or GED
Official transcripts (if you have transfer credits) and a high school or GED transcript
Learn more about the admissions process on our admissions page.
Yes. For this program, Methodist University accepts up to 93 transfer credits from a regionally accredited university. To review the eligibility requirements, request more information or call 910-212-4956 to speak with a knowledgeable counselor.
Visit our FAQ page