Online Bachelor of Science in Health Care Administration
Improve a Changing Health Care System with a 100% Online Degree from MU
AUPHA-Certified Curriculum
Request More Information
If you'd like to learn more about Methodist University's application process, admissions requirements, tuition and financial aid or specific program details, fill out this form, and we'll be in touch shortly.
Duration

3.5 years

Cost per Credit

$435

Credit Hours

124
Program Benefits
Small student-to-teacher ratio
Enter a field with 32% job growth1
Learn from seasoned health care practitioners
Eight-week terms
Enter Various Roles in the In-Demand Field of Health Care
With the right combination of health care and business skills, you can enter a variety of roles within the health care industry. As a health care administrator, you become the backbone of an organization – supporting doctors, nurses, staff, and, most importantly, patients.
In a field that is experiencing explosive growth,1 the time to enroll in a BS in Health Care Administration program is now. MU's flexible online Health Care Administration degree imparts knowledge that directly impacts people's lives by improving personal health services.
Pursue careers in hospitals, private physicians' offices, or short-term and long-term patient care facilities. Or choose research settings within government agencies or insurance companies to create change.
Health care administrators are in high demand across an array of work environments. From the online BS in Health Care Administration, you will be fully equipped to become a leader in a variety of health care settings. Graduates of the program have gone onto careers in hospitals, private physicians' offices, and long- or short-term patient care facilities. You will be equipped to become an administrative services managers, a role which, according to the Bureau of Labor Statistics, earns an average salary of $96,940.2 These positions are expected to grow by 6% through 2029.
Careers and Salaries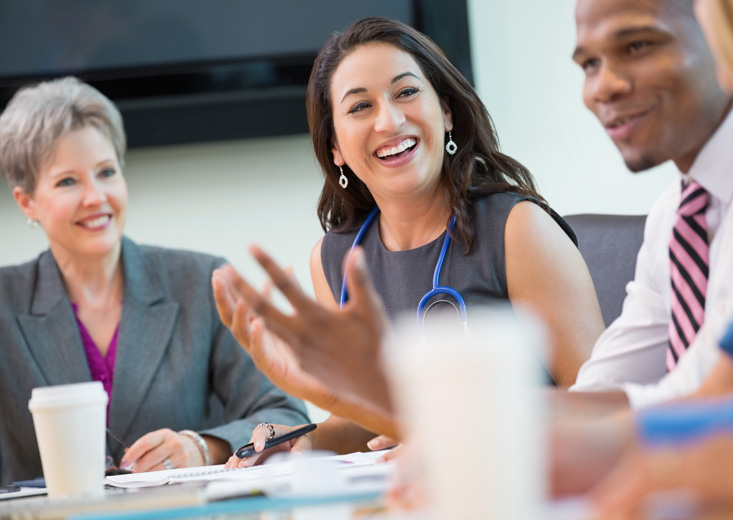 Curriculum
The program's curriculum has been carefully constructed to prepare students for health care administrator positions after graduation. Through subjects that include health care organizational management, health care economics and finance, organizational behavior, and health care policy, you will gain the skills necessary to enter a flourishing industry.
Preview Courses
Program Outcomes
In the online Bachelor of Science in Health Care Administration, you'll:
Apply critical problem-solving skills to health care problems.
Communicate professionally and effectively with other health care professionals and patients.
Understand the different payment systems employed by health care systems.
Analyze the costs of maintaining effective health care services.
Implement management principles and techniques across different health systems.
Support health professionals to offer the best possible care to patients.
Minors
Enhance your degree by adding one of three available 100% online minors — Accounting, Business Administration, and Marketing. Our minors are structured to help you advance in the career path you want most and impress potential employers with your dedication to learning.
To learn more about our minors and how you can add one to your degree, visit our minors webpage. You can also request more information about a minor or contact an enrollment counselor directly at 910.212.4956.
Explore Minors
Admissions Requirements
To apply for the online BS in Health Care Administration from Methodist University, you'll need:
High school diploma or GED
Official transcripts (if applicable) and high school transcript or GED transcript
View Requirements
Tuition Details
The online BS in Health Care Administration degree costs $435 per credit hour and has 124 credit hours. Learn more about the affordability of your education at Methodist University. If you or a family member are a veteran or active-duty service member, visit our Military Support page.
Tuition and Fees
Enjoy an online learning environment that offers the same quality as in-person courses, including dedicated faculty members and an overall caring, friendly atmosphere for achieving your professional and personal goals.
You'll also have access to all of MU's academic support services. That means you'll get personalized assistance you need, such as access to the tutoring and writing centers. Experience a distinctive education in a flexible environment that fits your schedule.
Explore Online Learning
You can earn a high-quality education from a private institution without worrying about the cost. As a Yellow Ribbon school and a university where 97% of students qualify for financial aid, Methodist is committed to affordability.
Learn more about federal student loans and grants, military benefits, and scholarship opportunities. We're proud to make your goals as affordable as possible.
Financial Aid Options
As is the case with any school, you may incur costs beyond tuition, such as textbooks, supplies, and other fees. Take these costs into consideration as you budget for your education.
You can review the tuition costs for this program here.
At this time, we do not offer a virtual open house, however we're always looking for ways to make the student experience great.
There are a total of 41 courses in the program, with 20 of those courses focusing on health care administration.
No, the online BS in Health Care Administration is an online program that features an in-person internship opportunity.
There is no GPA requirement for admissions into the program. To learn more about our admissions process, visit our admissions page, or call 910-212-4956 to speak with a knowledgeable counselor dedicated to personalizing your enrollment experience.
Applications will be due no later than three weeks prior to the start of the term. Check the academic calendar on our Admissions page for specific dates and deadlines.
Visit our FAQ page