BS/BAS in Business Administration: Health Care Administration Concentration
A 100% Online MU Business Administration Degree Focused on Health Care
Capstone Research Project
Request More Information
If you'd like to learn more about Methodist University's application process, admissions requirements, tuition and financial aid or specific program details, fill out this form, and we'll be in touch shortly.
Duration

3.5 years

Cost per Credit

$435

Credit Hours

124
Program Benefits
BS or BAS option
No application fee
Eight-week terms
Manage the Growing Changes in the Health Care Field
There's a reason why the U.S. Bureau of Labor Statistics expects an explosive job growth rate of 32%1 for health leaders this decade. Driven by data and research, the health care field is constantly changing. Professionals who can navigate these changes and manage the business side of an organization are in high demand.
Complete Methodist University's 100% Online BS or BAS in Business Administration with a Health Care Administration concentration to gain a comprehensive understanding of health care management. This includes working closely with doctors, nurses, boards of directors, insurance companies, employees, volunteers, and more.
Ready yourself for management roles such as billing, coding, collections, dealing with insurance companies, payroll, purchasing, and managing food services within health care systems. Make strategic decisions and quality improvements as a leader.
Career Outlook: Become a Leader in Health Care Systems
With your degree in business administration plus a health care concentration, you can advance in diverse leadership and management positions. According to the U.S. Bureau of Labor Statistics, jobs for medical and health services managers are expected to grow by 32% through 2029, much faster than average. These professionals made a median salary of $100,980 in 2019.1
Some examples of locations where you can apply your skills include:
Dental office
Doctor's office
Health insurance company
Hospital
Outpatient center
Psychiatric facility
Substance abuse treatment center
Surgery center
Urgent/acute care
MEDICAL AND HEALTH SERVICES MANAGER
$100,980/YEAR2
As a medical and health services manager, you would plan, direct, and coordinate the business activities of a health care provider or organization. You might oversee hiring, training, budgeting, programming, patient care, facility management, record keeping, and external communications.
ADMINISTRATIVE SERVICES AND FACILITIES MANAGER
$96,940/YEAR3
The largest employers of administrative services managers in 2019 were health care and social assistance organizations. Their job responsibilities include record keeping, facilities management, review of policies and procedures, and oversight of equipment maintenance.
Other titles you may qualify for:
Financial Analyst
Human Resources (HR) Specialist
Market Research Analyst
Sales Manager
Training and Development Specialist
Explore Careers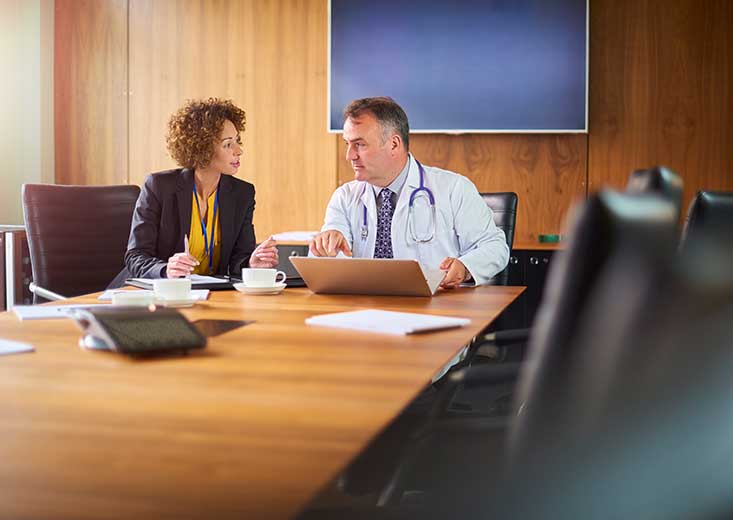 Curriculum: Learn how Business Impacts Health Care
In Methodist University's Health Care Administration concentration, you'll study foundations of health care administration including finance, medical terminology, and organizational management. Then, you'll choose three elective courses that align with your individual interests. Electives cover health care-focused topics in strategic management, organizational behavior, informatics, and policy.
An enriching health care internship is also part of the curriculum for students with less than five years' experience in the health care field.
HCA 2300 Medical Terminology (3 c.h.)
Introduces prefixes, suffixes, and word roots used in the language of medicine. Topics include medical vocabulary and the terms that relate to anatomy, physiology, pathological conditions, and treatment of the conditions that can affect the eleven systems of the human body. Upon completion, students should be able to pronounce, spell, define, understand, and interpret over 11,000 medical terms as related to the body's systems and their pathological disorders.
Preview Courses
HCA 3050 Managing Health Care Organizations (3 c.h.)
An introduction to the overall management of health-related organizations. Emphasis is on integrating fundamental tools, concepts, applications, and principles as a basis for the successful management of a health-related business. The focus is on managerial leadership, problem-solving, and critical thinking within contemporary health care-related organizations.
The online BS/BAS in Business Administration requires an average of 3.5 years to complete for full-time students.
This 124-credit hour program costs $435 per credit hour for an estimated total tuition of $53,940, not including fees or other costs you may incur. Your costs would be even lower with our online Bachelor of Applied Science degree program. Learn more at the BS in Business Administration tuition page.
*This is an estimate of the total tuition based on the current school year and is subject to change.
Yes. All of Methodist University's online programs are accredited by the Southern Association of Colleges and Schools Commission on Colleges (SACSCOC). Additionally, Methodist University's Reeves School of Business is nationally accredited by the Accreditation Council for Business Schools and Programs (ACBSP) to offer the Bachelor of Applied Science in Business Administration.
Yes. You can transfer up to 93 credits (or 75% of the program) toward your degree. Methodist University generally accepts credits for courses completed with a grade of C or higher from other regionally accredited institutions of higher education. To find out whether or not you are eligible, you can request more information or call us at (910) 212-4956.
To apply to the online Bachelor of Applied Science in Business Administration program, you must have a high school diploma or GED and submit all unofficial transcripts. For our Bachelor of Applied Science degree, students need an Associate of Applied Science degree.
Methodist University requires the submission of a copy of all previous unofficial transcripts (High School and Colleges/Universities) for acceptance and admission. The initial review process allows unofficial transcripts to be utilized, which can lead to a provisional acceptance if admitted. *Official Transcripts will be required to remove the provisional status and receive full acceptance. Please reach out to your Enrollment Counselor to discuss our Transcript Ordering Service which can obtain transcript records on your behalf
Visit our admissions page for more information.
Visit our FAQ page