Online Graduate Certificate in Health Care Administration
Program Overview
Lead a Changing Health Care System
In as little as two semesters, you'll develop the knowledge and skills to help health care organizations thrive as an in-demand clinical leader.
In as little as two semesters, you'll develop the knowledge and skills to help health care organizations thrive as an in-demand clinical leader.
Fast Facts
2
average semesters to complete
Request More Information
If you'd like to learn more about Methodist University's application process, admissions requirements, tuition and financial aid or specific program details, fill out this form, and we'll be in touch shortly.
Become a Highly Sought After Leader
There's no question that health care leaders are in high demand. Health care is one of the largest and fastest-growing industries in the world, and organizations need knowledgeable and experienced managers, administrators, and executives to respond to people's health needs.
Achieve your career goals in a program designed to be completed in a short period of time. In less than a year, you can learn what you need for success with this online graduate certificate in health care administration.
Career Outlook: Nearly 4x the National Average
There's a growing and lucrative market for health leaders. According to the Bureau of Labor Statistics, employment of medical and health services managers is projected to grow 18% by 2028, which is nearly four times more than the average for all occupations. These professionals earn a median annual wage of $99,730.1
Careers and Salaries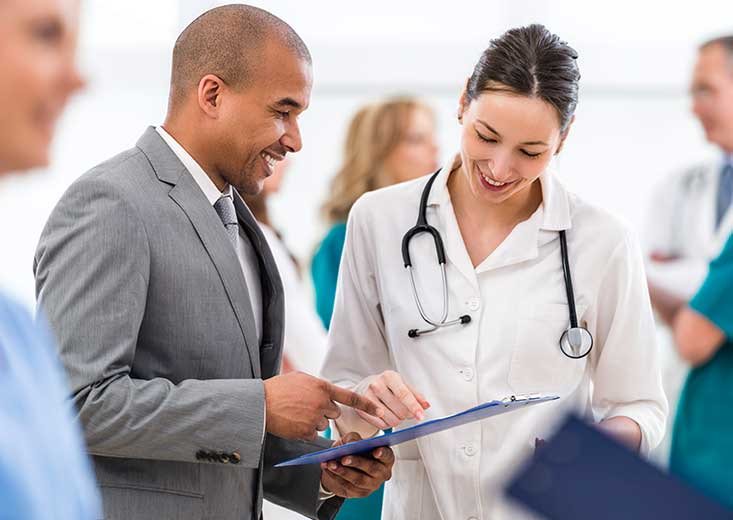 Curriculum: Practice Solving Unique, Real Issues
The 15-credit health care administration certificate encompasses policy issues, finance and economics, and organization and leadership topics.
Preview Courses
Program Outcomes
In the health care administration graduate certificate program, you'll:
Prepare to manage, lead, and improve a changing health care system.
Meet the needs of a dynamic and ever-evolving United States health care system.
Create and apply evidence-based knowledge to enhance the health of individuals and communities.
Admissions Requirements
To apply for the online graduate certificate in health care administration from Methodist University, you'll need:
Bachelor's degree from a four-year accredited college or university before starting the first term of the program.
Two letters of recommendation, and one letter must be from a professor or employer.
Overall GPA of 3.0 or better before the start of the first term of the program.
Provide a 1-2 page personal statement including your background, interest in attending Methodist University, interest in the program, and your career goals.
View Requirements
Tuition Details
The health care administration certificate costs $500 per semester hour and has 15 total semester hours. Learn more about the affordability of your education at Methodist University.
Tuition and Fees
Enjoy an online learning environment that offers the same quality as in-person courses, including dedicated faculty members and an overall caring, friendly atmosphere for achieving your professional and personal goals.
You'll also have access to all academic support services. That means you'll get personalized assistance you need, such as access to the tutoring and writing centers. Experience a distinctive education in a flexible environment that fits your schedule.
Explore Online Learning
You can earn a high-quality education from a private institution without worrying about the cost. As a Yellow Ribbon school and a university where 97% of students qualify for financial aid, Methodist is committed to affordability.
Learn more about federal student loans and grants, military benefits, and scholarship opportunities. We're proud to make your goals as affordable as possible.
Financial Aid Options