Online Master of Health Administration
Move Up to Middle or Senior Management with MU's Online MHA
Learn More Today
Complete the form to learn more about this program.
Duration

18 months

Cost per Credit

$500

Credit Hours

36
Program Benefits
Convenient online format
Enter a field with 32% job growth1
Learn from seasoned health care practitioners
High Growth, High Pay, and High Rewards
It's no surprise that the health care industry is one of the largest job sectors in our economy, and health care leaders are needed to support the medical professionals who save our lives and keep us healthy.
Methodist University's online MHA provides health care organization coursework that will give you the strategies, tools, and techniques you need to lead teams, make important decisions, and understand organizational effectiveness and change processes to improve performance.
Top leaders are earning six figures1 and enjoying roles within a growing industry with numerous career options. Consider chief executive officer, chief operations officer, clinic manager, department or division director, and more to impact public wellness.
Career Outlook: Pursue Mid- and Senior-Level Roles
Achieve upward mobility in one of the most in-demand and lucrative industries anywhere. According to the Bureau of Labor Statistics, medical and health services managers earn six-digit salaries and nearly quadruple the job outlook for all occupations. When you graduate, you'll be well-poised to compete for high-level opportunities within that title or for several other possibilities.
Careers and Salaries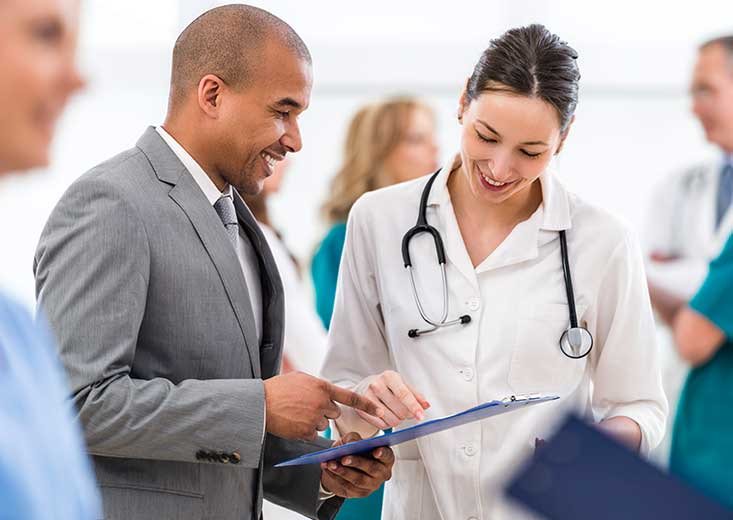 Curriculum: A Rigorous, Achievable Program
There's no question that the online Master of Health Administration program is rigorous — it has to be, given the nature of environments in health care. But alongside the outstanding faculty at Methodist University, you can learn all you need to know across management and leadership, policy issues, marketing, legal and ethical issues, statistics, organizational behavior, and more to succeed.
Preview Courses
Program Outcomes
In the online Master of Health Administration, you'll:
Prepare to manage, lead, and improve a changing health care system.
Meet the needs of a dynamic United States health care system.
Create and apply evidence-based knowledge to enhance the health of individuals and communities.
Learn to lead and manage in today's contemporary health care environment that is rapidly evolving and challenging social dynamics.
Be able to successfully build on undergraduate-level knowledge and skills to successfully compete for mid- and senior-level positions.
Admissions Requirements
To apply for the online master's in health administration from Methodist University, you'll need:
Bachelor's degree from a four-year accredited college or university before starting the first term of the program.
Undergraduate GPA of 3.0 or higher.
Two letters of recommendation, and one letter must be from a professor or employer.
Complete a typed personal statement including your background, interest in attending Methodist University, interest in the program, and your career goals.
Official transcripts.
View Requirements
Tuition Details
The online Master of Health Administration costs $500 per semester hour and has 36 total semester hours. Learn more about the affordability of your education at Methodist University. If you or a family member are a veteran or active-duty service member, visit our Military Support page.
Tuition and Fees
Enjoy an online learning environment that offers the same quality as in-person courses, including dedicated faculty members and an overall caring, friendly atmosphere for achieving your professional and personal goals.
You'll also have access to all academic support services. That means you'll get personalized assistance you need, such as access to the tutoring and writing centers. Experience a distinctive education in a flexible environment that fits your schedule.
Explore Online Learning
You can earn a high-quality education from a private institution without worrying about the cost. As a Yellow Ribbon school and a university where 97% of students qualify for financial aid, Methodist is committed to affordability.
Learn more about federal student loans and grants, military benefits, and scholarship opportunities. We're proud to make your goals as affordable as possible.
Financial Aid Options