Online BA in Professional Leadership and Ethics
Forward Thinkers Seek MU's Leadership Degree
Ethical Leadership Practices
Request More Information
If you'd like to learn more about Methodist University's application process, admissions requirements, tuition and financial aid or specific program details, fill out this form, and we'll be in touch shortly.
Duration

3.5 years

Cost per Credit

$435

Credit Hours

124
Program Benefits
100% online
No application fee
Transfer up to 93 credit hours
Eight-week terms
Cast a Wider Net with MU's Broad-Based Leadership Degree
Methodist University's BA in Professional Leadership and Ethics builds your business communication and leadership skills for entering roles in any industry. This program is geared to professionals who want an ethical foundation, faculty and peer connections, and a liberal arts curriculum.
Delve into psychology, business writing, moral reasoning, society, and history, underscored by the program's three central tenets – collaboration, contextualization, and contribution – which teach interpersonal communication and design, research and analysis, and application and professional practice.
Methodist University offers a convenient online format and simple application process. There's no application fee; all you need is a high school diploma, and you may also benefit from a military discount.
Leadership Skills for Tomorrow's Economy
Through the interdisciplinary nature of the degree, you'll be prepared to enter leadership positions in the industry of your choice after graduation. In a private sector business, non-profit organization, or governmental agency, you'll gain the leadership skills to win over new employers and secure promotion opportunities. According to the Bureau of Labor Statistics, administrative services managers earn an average salary of $96,940, and positions in the field are expected to grow by 6% through 2029.1
Careers and Salaries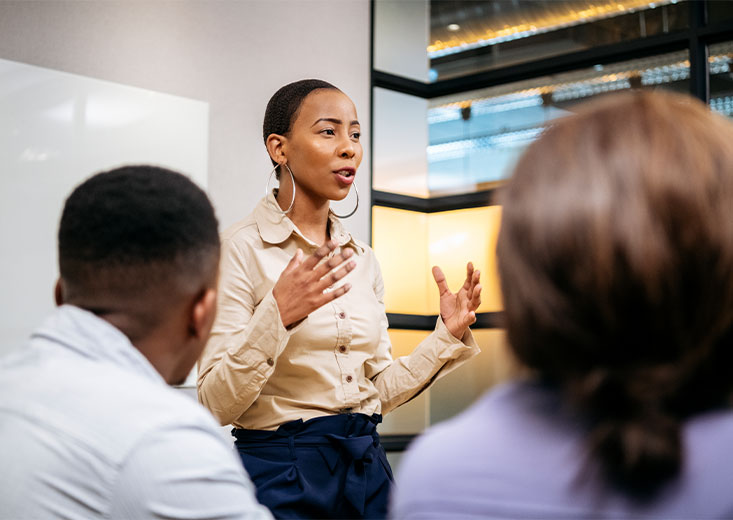 Curriculum: Diverse and Direct Professional Leadership
Methodist University's online ethical leadership bachelor's degree offers a balanced, interdisciplinary course load that culminates in a combination of history, professional ethics, business communication, and leadership studies. The program's three central tenets – collaboration, contextualization, and contribution – provide the foundation to develop effective, forward-thinking, and ethical leadership practices.
Preview Courses
Program Outcomes
In this program, you will learn to:
Communicate across a range of modalities and channels.
Gather and interpret data to help businesses grow.
Apply leadership techniques to anticipate and adapt to unexpected circumstances.
Engage in a moral leadership framework in both social and professional contexts.
Minors
Enhance your degree by adding one of three available 100% online minors — Accounting, Business Administration, and Marketing. Our minors are structured to help you advance in the career path you want most and impress potential employers with your dedication to learning.
To learn more about our minors and how you can add one to your degree, visit our minors webpage. You can also request more information about a minor or contact an enrollment counselor directly at 910.212.4956.
Explore Minors
Admissions Requirements
To apply for the online bachelor's in professional leadership and ethics from Methodist University, you'll need:
A high school diploma or GED
Official transcripts (if you have transfer credits) and a high school transcript or GED transcript
View Requirements
Tuition Details
The 100% online BA in Professional Leadership and Ethics degree costs $435 per credit hour and has 124 total credit hours. Learn more about the affordability and value of your education at Methodist University. If you or a family member are a veteran or active-duty service member, visit our Military Support page.
Tuition and Fees
Enjoy an online learning environment that offers the same quality as in-person courses, including dedicated faculty members and an overall caring, friendly atmosphere for achieving your professional and personal goals.
You'll also have access to all of MU's academic support services. That means you'll get personalized assistance you need, such as access to the tutoring and writing centers. Experience a distinctive education in a flexible environment that fits your schedule.
Explore Online Learning
You can earn a high-quality education from a private institution without worrying about the cost. As a Yellow Ribbon school and a university where 97% of students qualify for financial aid, Methodist is committed to affordability.
Learn more about federal student loans and grants, military benefits, and scholarship opportunities. We're proud to make your goals as affordable as possible.
Financial Aid Options
You can complete the program in as few as 3.5 years.
The online bachelor's in professional leadership and ethics is available in both part-time and full-time options. Call 910-212-4956 to speak with a knowledgeable counselor dedicated to personalizing your enrollment experience.
With more than 97% of students receiving significant financial aid, very few pay the full "sticker price" tuition fee of $53,940, making the value of an MU degree unmatched. The estimated $53,940 does not include fees or other costs you may incur. A variety of scholarships are available for Methodist University's online programs.
For more information about tuition, additional costs, and financial aid options, please visit our tuition page.
*This is an estimate of the total tuition based on the current school year and is subject to change.
Yes, the online degree is regionally accredited by the Southern Association of Colleges and Schools Commission on Colleges (SACSCOC).
To gain admission into the program, you must provide:
• Completed application
• High school diploma or GED
• Transcripts
Learn more about the admissions process on our admissions page.
There are a total of 124 credit hours, with 42 of those being major-specific.
Visit our FAQ page