Online Bachelor of Science in Criminal Justice
Earn an Accredited Criminal Justice Degree Online
Generous Transfer Pathway
Request More Information
If you'd like to learn more about Methodist University's application process, admissions requirements, tuition and financial aid or specific program details, fill out this form, and we'll be in touch shortly.
Duration

3.5 years

Cost per Credit

$435

Credit Hours

124
Program Benefits
Small student-to-teacher ratio
Prep for law enforcement roles
Learn from seasoned field practitioners
Eight-week terms
Gain Hands-on Experiences to Address Crime
Build a holistic view of behaviors, conditions, and circumstances that result in crime. Methodist University's online Bachelor's in Criminal Justice degree helps you closely examine crime, criminality, and the criminal justice system from a social science perspective.
Your coursework includes hands-on experiential learning in a 10-week, supervised practicum at a criminal justice agency. You'll take direction from faculty and an on-site supervisor during engaging field experiences, and you'll also participate in a weekly seminar through an internship course.
Upon graduation, you'll have completed 120 hours of fieldwork and be prepared for roles in law enforcement, corrections, probation, parole, or law to make a difference in vulnerable populations. Potential careers include probation officer, private investigator, and DEA special agent.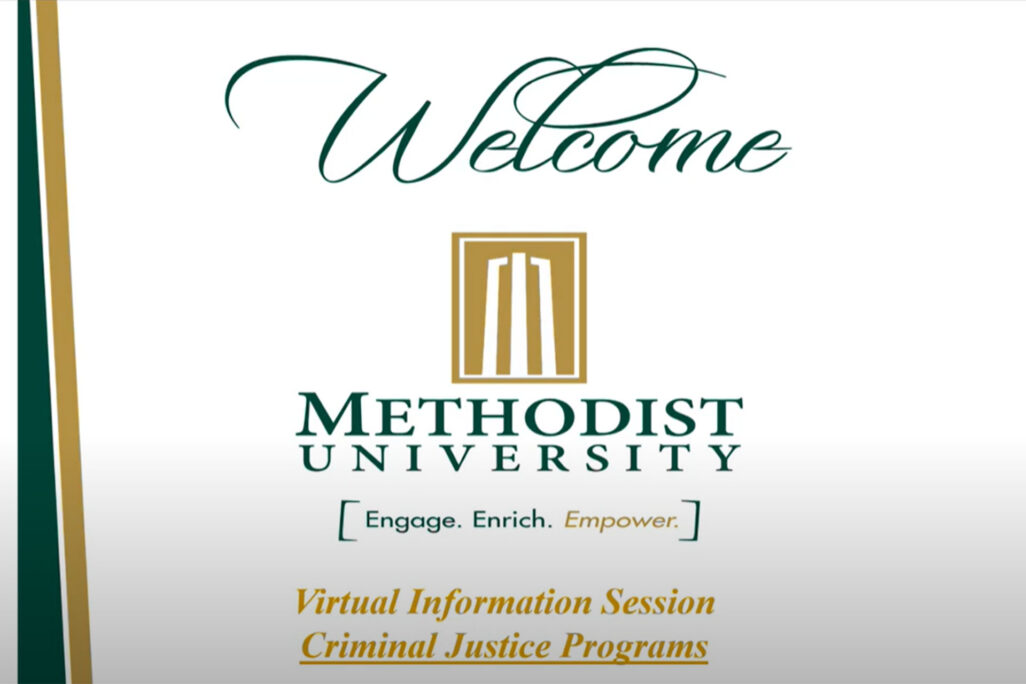 Dickey, Allison
Hello everyone and welcome to the Methodist Universities Virtual Information session for our criminal justice offerings.
We're excited to offer you this session to learn more and provide a better understanding of our online programs and our amazing team.
My name is Allison Dickey, director of online enrollment, and I'll allow our faculty member to introduce himself.

Eric See
Hello, my name is Doctor Eric.
See, I'm the division head for criminal justice and military science here at Methodist University.
I've been here at Methodist for about 16 years.
I'm a criminologist and my interests are in crime theory and understanding why people do the things they do it, which leads us to policy recommendations and think we can do to try to prevent crime.
The nice thing about my department here at Methodist is we have a variety of faculty members who teach in the online program from the strict academics like myself to those that have worked in the field for 20 years before becoming academics and bringing that expertise into the classroom with them.
So you get a wide variety of exposure here at Methodist.
You get people like me that specialize in theory and want to get in the abstract nature of things, but you also get people who were police officers for 20 years or spent a career in corrections working in the prison system or spent a career in the military working in the justice system.
You need that combination of people and voices.
You want that combination that have done different things in different experiences and bring that all into the classroom and that's what I like about the program that we built here.
And I think as a student, that's the kind of program you want to look for.
You want both of those approaches.
You want the practical?
You want the theoretical and you want them all combined together.
And as we go through the highlights of our program here at Methodist today, keep that in mind that you get exposed to all of those different angles.
And I think that's what you're looking for.
When you're ready to take your career to the next level.

Dickey, Allison
Absolutely.
Thank you, Eric.
Tikkas off will be outlining both the Bachelor of Science and the Master of Science in Criminal Justice.
These are both held online.
The Bachelors has a total of 124 credit hours.
The masters, as a total of 36 credit hours.
Now I'd like to point out that the number of credit hours you will need will vary based on your qualified transferable credits.
All the more reason to connect with an enrollment counselor to understand the specifics of your needs.
Already, the bachelors, the program length is 124 credit hours and again we do have full time and part time scheduling available.
We can transfer a maximum of 93 credit hours.
We can also transfer up to 64 from a Community College.
We can also transfer up to 62 credit hours from nontraditional learning and on the right side of the page the cost is $435 per credit hour and I'd like to point out that 97% of students receive financial aid.
I'd also like to point out that the tuition for active duty military reserve and National Guard component students is $250 per credit hour.
The admissions requirements are just below.
We need a completed application, a high school diploma or GED, and transcripts.
OK, I'm going to walk you through the benefits of the program.
It is again 100% online.
We do offer full time and part time scheduling up to at 93 transfer credits can be accepted and we also have eight week terms offered up to six times a year and a really wonderful internship component.
Eric, if you can walk us through the program outcomes?

Eric See
Yeah.
As you can see here, we talk about becoming proficient in the knowledge and causes of criminality.
I mean, that's what it's all about.
Why do people do the things they do?
Demonstrate research skills and conducting a project in the capstone course.
Myself and another colleague here just had a book come out last summer.
We're working on another book.
The faculty here actually conduct research projects ourselves.
We research, we write, we publish, we teach that skills to the students.
We want you to learn that we want you to learn how to be consumers of scientific knowledge and how you can use that in your everyday life.
You're gonna learn program policy development, organization, position planning, all of these things that are necessary in the field of criminal justice as you advance, as you seek promotions and as you move on in your career.
And those are the things that behind the scenes, all of our classes are leading you to guiding you to and you'll be proficient with when you leave our program.

Dickey, Allison
Thank you, Eric.
Now if you could walk us through the curriculum for the Bachelor of Science and Criminal Justice, and how these core courses really set us apart.

Eric See
Well, you've got your courses that you're going to find most places with criminal justice and the police and urban and that kind of thing.
I think we're a little bit different is our focus on victimology, our focus on the legal process.
Victims are often overlooked in the criminal justice system and we try to really remedy that in our program.
We try to make sure that you know you just don't understand the nuts and bolts of the legal process.
But you know what are the effects on real people that are victims of these crimes?
And we want you to leave our program with a solid understanding of that and an ability to go into the field and make a difference on those kind of things.
So when you start looking for internships, you know, once you realize that the system is more than policing, it's also probation and parole and corrections.
And you know, working with juveniles and working with victims, the world is much more opened up to you for possible internship sites.
It's not a cookie cutter internship where everybody does the same thing.
When you look then at how our course is kind of fit together, you know a lot of students aren't excited about statistics and research methods courses, but you have to have them and you know our professors that teach that fully understand the anxiety that students have going into that class and they will work with you and they will see that you get the guidance you need to not only tackle that class, but to come out of it confident in your abilities to apply that knowledge and use that in your career.
And that's what sets us apart.
That the extra mile we go to make sure that not only are you taking the statistics course, but that you're going to get something out of it and you're going to understand why you needed that course when you're done with it.

Dickey, Allison
Absolutely.
Moving right along to the Masters in criminal justice program, this program is a total of 36 credit hours up to 9 credit hours are transferable and again we do offer full time and part time scheduling and the cost is $545 per credit hour and again 97% of students receive financial aid.
The requirements are just to the right.
We need a completed application, a bachelor's degree with an undergraduate GPA of three point or higher, transcripts from all previously attended institutions, 2 letters of recommendation, and a letter of intent or personal statement.
Program outcomes.
Now, if Eric, if you could walk me through the outcomes here, I'll walk you through the benefits.
But what exactly are we gaining from this master's program?

Eric See
Well, the program outcomes on the Masters are basically picking up off of the bachelors.
Although you could have gotten your bachelor somewhere else and come to us for the masters, look at the things that we're.
Highlighting here the juvenile justice system.
Research agenda and classroom applications.
Ethics.
Administrative leadership, we need strong administrators in this field and we need people with strong ethical foundations.
And that's why we focus on those I noted before, that victims are often overlooked.
Juveniles are often overlooked and basically a forgotten part of the system.
We bring them front and center in our curriculum and in the approach that we take.
So what we're going to do is prepare you for administrative positions to be promoted, whether it be in policing or corrections or the classroom applications.
Perhaps you want to teach.
We have a number of students who have spent time in corrections or in policing and they would like to teach on the side or teach a couple classes here and there.
Or maybe retire into teaching at the Community College level and we'll get you prepared for that.
You combine that with the skills that are on the right hand side, cybercrime, data analysis, juvenile justice.
As you can see, it's not focused on one simple aspect of the criminal justice system.
When you're at the masters level, I mean mastery is what you need.
Mastery of that material, and it's not limited to 1 area.
That's why we have such a spread of topics there that when you come out, you're well rounded and you're ready to go.

Dickey, Allison
And the benefits are just below.
Again, online format gives you that flexibility up to 9 transfer credits are accepted eight week terms full time and part-time options, and we have a low student to faculty ratio, which is important.
And the curriculum for the master is in criminal justice, tying us into that last slide here, Eric.
Again, how does this prepare our students for real world experience with this curriculum here?

Eric See  
Well, you know, I've noted before, the criminological theory is my area.
I love to teach criminological theory.
That's where, you know, I try to get that light bulb moment for the students.
Understanding why people do the things they do and that there's more than one theoretical explanation, you know, whether it's rational choice or environmental or governmental theories.
We go over all of those with the students get that.
But although I hate to admit it, there's more than just criminological theory.
And that's why the other faculty members that I've noted before and they're relevant professional experience is so important, whether it be teaching the ethics or the policing, you know, we have retired officers who, you know, they walk the beat, they did the job, they know exactly what it is that they're teaching juvenile justice.
We have professors that used to work for DSS.
You know, they were involved in the day to day life of families and the kids that lived in there and whether or not those kids remained in the home, Oregon got taken into state care.
And that's a heavy burden.
And that's what some of our students will be facing in the kind of decisions they have to make.
They need a professor.
Who is walk that walk?
We have an outstanding attorney on faculty that deals with our legal issues and then when it's research method, time and statistics again we prepare you for what you're going to do in your Capstone courses.
Capstone one and two, you're going to spend 2 semesters working on a project that by the time you get done if you're going to look at it and realize what an accomplishment you've done, what a piece of research that you have created and you're going to see how that can be a basically a road map for your career after your master's degree.
The things that you want to do, you need that combination of things.
No one professor can give that to you, and you need a master's program that has that combination of faculty that can give you what you need and have the expertise in the class they're teaching.

Dickey, Allison  
Absolutely.
Thank you, Eric.
Now here at Methodist University, we do have a lot of financial assistance options.
I'd like to point out again 97% of our students receive financial aid.
Our FAFSA link and school code are just at the top there, and we do offer various scholarships and grants that are merit need talent based offered by businesses, civic groups, foundations, churches, more so you can save on your education.
We even have a scholarship.
If you're transferring from a local Community College, we also have a lot of military population where a yellow ribbon school we are military gold friendly.
We support the GI Bill and other military specific scholarships, and again, our tuition for active duty military and reserve component military students for the undergraduate program is $250 per credit hour.
We do also have partnerships.
You could be eligible for a 10% tuition reduction, so this is really just Methodist making your education more affordable for you.
And you know, we can complete this in a timely manner.
Our financial aid and tuition page is just at the bottom.
There you can also just always give us a call.
Our phone number is listed below.
If you ever have any specific questions.
Next steps if you are ready to apply, you can use this link right above here.
But if you are just dipping your toes in the water and starting your research and just really need to soundboard off with someone that is well versed and what we do offer, fill out the request for information form.
Indicate your communication preference.
We can call text or email whatever works for you, so you can really speak with an expert and decide what is best for you.
OK.
We wanted to give you our contact information as well.
The online admissions General inbox is listed just above their online at methodist.edu.
Again, you can also always call in and just have that exploratory conversation that is specific towards your situation and your needs.
My name is Allison Dickey, director of online enrollment and just below are my two wonderful enrollment counselors, Keelena Savage and Christopher Alexander.
We also have, of course, the wonderful doctor, Eric C Division, head of criminal justice with his contact information listed below as well.
I think it would be really beneficial to also include Doctor Tina Miller, director of online and transfer student support, with her email and contact information just below as well.
I'd like to thank you for joining us today.
We are absolutely thrilled to support you and your educational goals at Methodist.
Please reach out if you have any questions at all.
Need any assistance.
We are happy to help and we hope you have a wonderful day.

Eric See  
Thank you.
Watch our Criminal Justice Virtual Information Session
Hear from our MU faculty and learn more about our Criminal Justice programs.
Career Outlook: Thrive in Your Chosen Field
There are multiple fields within criminal justice — such as law enforcement, corrections, probation, parole, and law — with several career tracks within each area. Regardless of your individual career goals, you can gain the knowledge and skills you need to thrive in this field with an online criminal justice degree from Methodist University.
Careers and Salaries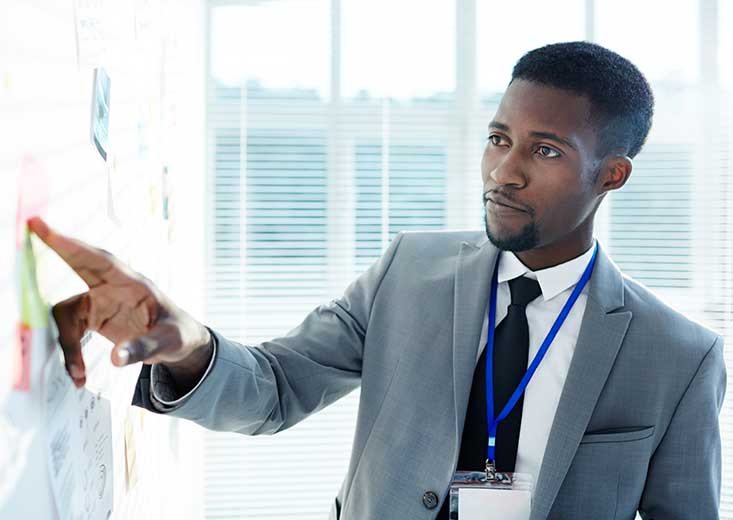 Curriculum: The Foundation You Need
The online criminal justice degree examines crime and the criminal justice system from a social science perspective, providing you with a wide knowledge base and comprehensive understanding of criminological theory. You'll gain skills in interpersonal communications, program and policy development, and planning and research to excel in the criminal justice field.
Preview Courses
Program Outcomes
In the online Bachelor of Science in Criminal Justice, you'll:
Demonstrate proficient knowledge of the causes of and responses to criminality.
Demonstrate research skills in conducting a research project in the capstone course.
Demonstrate the application of forensic science within the context of the investigative process.
Acquire the necessary skills in interpersonal communications, program and policy development, community organization, planning and research to function in a professional position in the field of criminal justice.
Minors
Enhance your degree by adding one of three available 100% online minors — Accounting, Business Administration, and Marketing. Our minors are structured to help you advance in the career path you want most and impress potential employers with your dedication to learning.
To learn more about our minors and how you can add one to your degree, visit our minors webpage. You can also request more information about a minor or contact an enrollment counselor directly at 910.212.4956.
Explore Minors
Admissions Requirements
To apply for the online criminal justice degree from Methodist University, you'll need:
Official transcripts (if applicable) and high school transcript or GED transcript
View Requirements
Tuition Details
The online criminal justice degree costs $435 per credit hour and includes 124 credit hours. If you or a family member are a veteran or active-duty service member, your education at Methodist University could be even more affordable. Visit our Military Support page.
Tuition and Fees
Enjoy an online learning environment that offers the same quality as in-person courses, including dedicated faculty members and an overall caring, friendly atmosphere for achieving your professional and personal goals.
You'll also have access to all of MU's academic support services. That means you'll get personalized assistance you need, such as access to the tutoring and writing centers. Experience a distinctive education in a flexible environment that fits your schedule.
Explore Online Learning
You can earn a high-quality education from a private institution without worrying about the cost. As a Yellow Ribbon school and a university where 97% of students qualify for financial aid, Methodist is committed to affordability.
Learn more about federal student loans and grants, military benefits, and scholarship opportunities. We're proud to make your goals as affordable as possible.
Financial Aid Options