Online MSN: Administrative Leadership
Prepare for Advanced Roles in Nursing
Request More Information
If you'd like to learn more about Methodist University's application process, admissions requirements, tuition and financial aid or specific program details, fill out this form, and we'll be in touch shortly.
Duration

2 years

Cost per Credit

$500

Credit Hours

36
Program Benefits
Complete coursework in a flexible online format
Make a positive impact on patient outcomes
Full-time and part-time scheduling available
Up to nine transfer credits accepted
Eight-week terms
Make a Positive Impact on Care Outcomes and Health Systems
Improve your nursing practice through transformational leadership with the online MSN: Administrative Leadership degree. In this program, you'll master the principles of evidence-based practice and develop relevant management skills to lead in any health care organization. A BSN degree is required for admission.
Study essential concepts for modern health care administrators, like quality improvement, global health, policy, and health care technology. This 36-credit program is designed to be completed in two years so you can meet your academic goals faster. When you finish your degree, you'll be ready for the next phase of your nursing career.
The master's degree program in nursing at Methodist University is pursuing initial accreditation by the Commission on Collegiate Nursing Education (http://www.ccneaccreditation.org). Applying for accreditation does not guarantee that accreditation will be granted.
Meet the Demand for Nurse Leaders
As a graduate of the online MSN program, you'll be ready to meet the challenges of today's complex and changing health care system. A graduate credential opens doors to nursing administration, nursing leadership, and health care leadership roles.
Employment of medical and health services managers is expected to grow 32% through 2030, with 139,600 new jobs added to the market during the same time period.1 As more and more nurse management roles require candidates to have a master's degree, continuing your studies will prepare you for long-term professional success.2
Careers and Salaries
An Industry-Driven Curriculum for Continued Success
Our MSN is focused on health care leadership, combining advanced theoretical learning with hands-on practice in the field. Clinical hours are distributed across five courses to offer a breadth of experience. Fully online courses have around 15–25 students, allowing you to make connections and learn from your peers. Nine credit hours of dual credit can also count toward the Graduate Nursing Education Certificate program, giving you the opportunity to earn an additional credential and broaden your skills.
The Administrative Leadership track is the only track offered for the online MSN program at this time and is required.
Courses include:
Advanced Informatics and Health Care Technologies
Population & Global Health
Interprofessional Collaboration & Communication
Quality and Safety in Nursing Practice
Explore Curriculum
Start Your Application Today
Transfer credits accepted
To apply for the online MSN: Administrative Leadership degree program, submit a completed online application, official transcripts, personal statement, and copy of your CV or resume. Our online program is available to students who have a Bachelor of Science in Nursing degree and a GPA of at least 2.75.
View the Application Process
Earn An In-Demand Degree for a Competitive Price
At Methodist University, we are dedicated to making your education as affordable as possible. If you or a family member are a veteran or active-duty service member, visit our Military Support page to explore the benefits available to you.
View Tuition Details
What You'll Learn
Throughout the program, you will gain valuable theoretical and practical knowledge to guide clinical decision-making and promote person-centered care. You'll graduate ready to take on leadership roles as an expert in your field.
Program Outcomes
After completing the online MSN: Administrative Leadership program, you will be able to:
Integrate theoretical perspectives for advanced nursing care within a variety of health care settings.
Engage in interprofessional partnerships to improve health outcomes and optimize care delivery for individuals, communities, and populations across a variety of health care settings.
Develop broadened contextual basis of scholarship and critically appraise the application of best practices in a variety of settings and populations.
Evaluate quality and safety measures to improve processes, outcomes, and systems of health care.
Analyze the use of informatics and health care technologies to improve patient and population outcomes while upholding ethical and legal standards of professional nursing practice.
Develop activities to enhance personal, professional, and leadership skills.
Model behaviors of professional nursing that recognize and embrace diversity and holism to promote positive health outcomes within a global healthcare community.
Faculty Spotlight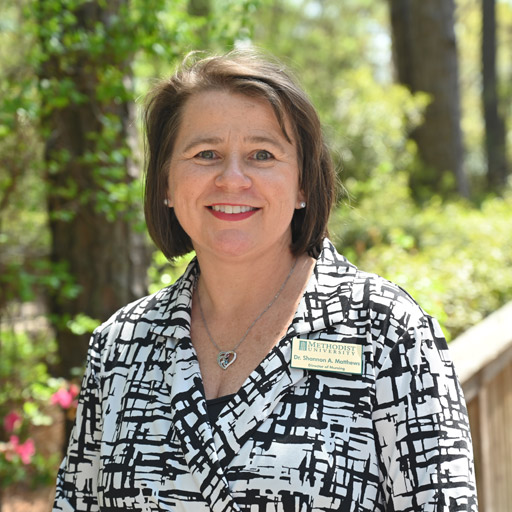 Shannon Matthews, DNP, RN, CHSE
CHAIR & DIRECTOR OF NURSING; ASSOCIATE PROFESSOR OF NURSING
Dr. Matthews has been a nurse for more than 25 years and in nursing education since 2002. She has lived in North Carolina most of her life and has nursing degrees from UNC-CH (BSN), ECU (MSN), and Gardner-Webb University (DNP). She has worked in a variety of settings including, cardiac step-down, orthopedics, neurology, and home health. Each specialty provided a breadth and depth of experience that contributes to her teaching.
She joined the faculty at Methodist University in 2013 and is an advocate for hands-on learning activities and the use of simulation in nursing education. While completing her doctoral work, her capstone project evaluated learning outcomes and critical thinking for nursing students participating in peer-led simulation. She became a Certified Healthcare Simulation Educator in 2016.
Learn from Nursing Experts
Our online MSN courses are taught by experienced instructors who come from diverse academic backgrounds. They bring a range of specialties and teaching styles to the classroom to prepare you for success. Faculty will also oversee your coursework and clinical experiences to provide support and mentorship as you complete your studies.
Personalized attention
Industry connections
Real-world experience
Low student to faculty ratios
Enjoy an online learning environment that offers the same quality as in-person courses, including dedicated faculty members and an overall caring, friendly atmosphere for achieving your professional and personal goals.
You'll also have access to all of MU's academic support services. That means you'll get personalized assistance you need, such as access to the tutoring and writing centers. Experience a distinctive education in a flexible environment that fits your schedule.
Explore Online Learning
You can earn a high-quality education from a private institution without worrying about the cost. As a Yellow Ribbon school and a university where 97% of students qualify for financial aid, Methodist is committed to affordability.
Learn more about federal student loans and grants, military benefits, and scholarship opportunities. We're proud to make your goals as affordable as possible.
Financial Aid Options
Tuition is $500 per credit hour. You'll need to complete 36 credit hours for an estimated total of $18,000, not including financial aid. You can review all tuition costs on the tuition page.
*This is an estimate of the total tuition based on the current school year and is subject to change.
The master's degree program in nursing at Methodist University is pursuing initial accreditation by the Commission on Collegiate Nursing Education (http://www.ccneaccreditation.org). Applying for accreditation does not guarantee that accreditation will be granted.
Admission requirements include a BSN degree, official transcripts, a personal statement, resume or CV, and a GPA of at least 2.75. You can learn more on the admissions page.
You'll complete 13 courses to earn the MSN: Administrative Leadership degree. You can learn more about coursework on the curriculum page.
Visit our FAQ page