Explore Flexible Pathways with MU's Accredited RN to BSN Degree Online
Request More Information
If you'd like to learn more about Methodist University's application process, admissions requirements, tuition and financial aid or specific program details, fill out this form, and we'll be in touch shortly.
Duration

1-2 years

Cost per Credit

$435

Credit Hours

124
Program Benefits
Convenient online format
Learn from seasoned health care practitioners
Help with clinical placement
Eight-week terms
Expand Your Knowledge and Patient Care Skills
Advance your education and career with Methodist University's online RN to BSN program.
Expand your knowledge with coursework covering professional practice, leadership, research, health policy, evidence-based practice, pathophysiology, public health, and an engaging capstone. A required elective course gives you the flexibility to further explore the areas of gerontology, women's health, or critical care.
According to an AACN position statement, the growing challenges and complexities in health care require nurses to have an education that addresses these responsibilities. The AACN recognizes the BSN as the minimum educational requirement for professional nursing practice.
You can complete the Methodist University program in as little as one year to quickly advance your career.
Pursuing my RN-BSN online with Methodist University was an educational experience unlike any other. The flexibility of this program is fantastic! It allowed me to complete my assignments while continuing to work full-time. My MU courses really helped me develop a more professional mindset, and the confidence to be a leader. Each professor, without fail, wants every student to succeed and is keenly interested in the learning styles of their students.

– Ann Snyder
Class of 2023, RN-BSN
Career Outlook: Join an Expanding Field
The American Association of Colleges of Nurses (AACN) has identified the BSN degree as the minimum educational requirement to practice nursing, and nurses graduating with a BSN are in high demand across practically all health care settings. According to the Bureau of Labor Statistics, registered nurse (RN) positions are expected to grow by 7% through 2029.1
Careers and Salaries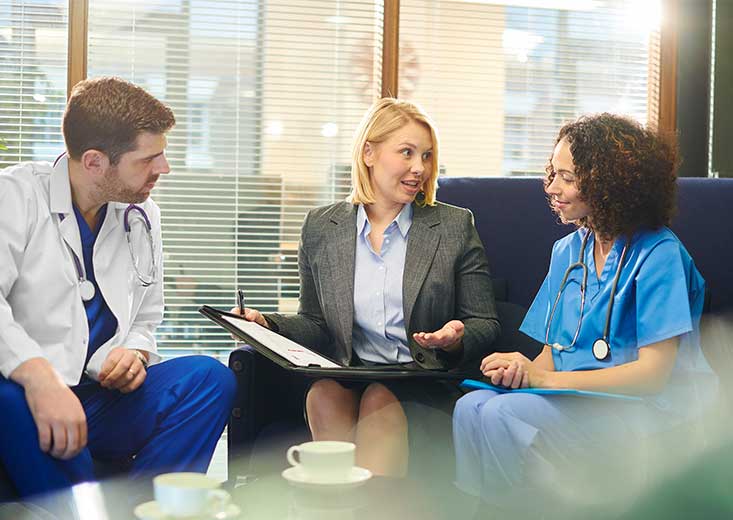 Curriculum: Build a Foundation in Patient Care
With a total of nine core degree courses, MU's online RN to BSN curriculum explores topics that include evidence-based nursing practice, health policy, nursing leadership, and public health. As a student, you will be able to choose your plan of study with an elective course as well.
The RN to BSN program at Methodist University is accredited by the Commission on Collegiate Nursing Education (http://www.ccneaccreditation.org).
Preview Courses
Collaborate with other health care professionals to offer effective, patient-centered care.
Offer evidence-based nursing care across an array of health care settings.
Apply nursing informatics and innovative medical technology to promote safe, effective care.
Embrace compassionate, culturally competent nursing practice to support positive health outcomes.
Identify and evaluate the safety and effectiveness of healthcare policies and procedures.
Admissions Requirements
To apply for the online RN to BSN from Methodist University, you'll need the following:
Associate Degree in Nursing (ADN), Associate of Science in Nursing (ASN)

, or nurse diploma from a NLNAC, ACEN, or regionally accredited program
A minimum GPA of 2.0 on a 4.0 scale.
Copy of high school transcript and official transcripts from each institution attended
Copy of current unencumbered RN license
View Requirements
Tuition Details
The RN to BSN online program costs $435 per credit hour. Credits from prior coursework typically fulfill 25-75% of the 124 c.h. required. A maximum of 64 c.h. may be accepted from two-year post-secondary institutions. Up to 93 c.h. may be accepted for transfer toward the degree.
Learn more about the affordability and value of your education at Methodist University. If you or a family member are a veteran or active-duty service member, visit our Military Support page.
Tuition and Fees
Enjoy an online learning environment that offers the same quality as in-person courses, including dedicated faculty members and an overall caring, friendly atmosphere for achieving your professional and personal goals.
You'll also have access to all of MU's academic support services. That means you'll get personalized assistance you need, such as access to the tutoring and writing centers. Experience a distinctive education in a flexible environment that fits your schedule.
Explore Online Learning
You can earn a high-quality education from a private institution without worrying about the cost. As a Yellow Ribbon school and a university where 97% of students qualify for financial aid, Methodist is committed to affordability.
Learn more about federal student loans and grants, military benefits, and scholarship opportunities. We're proud to make your goals as affordable as possible.
Financial Aid Options
You can complete the program in as little as one year.
The online RN to BSN is available in both part-time and full-time options. Call 910-212-4956 to speak with a knowledgeable counselor dedicated to personalizing your enrollment experience.
With more than 97% of students receiving significant financial aid, very few pay the full "sticker price" tuition fee of $53,940. The estimated $53,940 (prior to transfer credits and financial aid) does not include fees or other costs you may incur. A variety of scholarships are available for Methodist University's online programs.
For more information about tuition, additional costs, and financial aid options, please visit our tuition page.
*This is an estimate of the total tuition based on the current school year and is subject to change.
Yes, the online RN to BSN is accredited by the Commission on Collegiate Nursing Education (CCNE).
To gain admission into the program, you must provide the following:
Associate degree or nurse diploma
Transcripts
Current unencumbered RN license
Learn more about the admissions process on our admissions page.
Yes! The online program accepts up to 93 transfer credit hours, pending departmental approval. A maximum of 64 credit hours of coursework may be accepted from two-year post-secondary institutions.
Visit our FAQ page