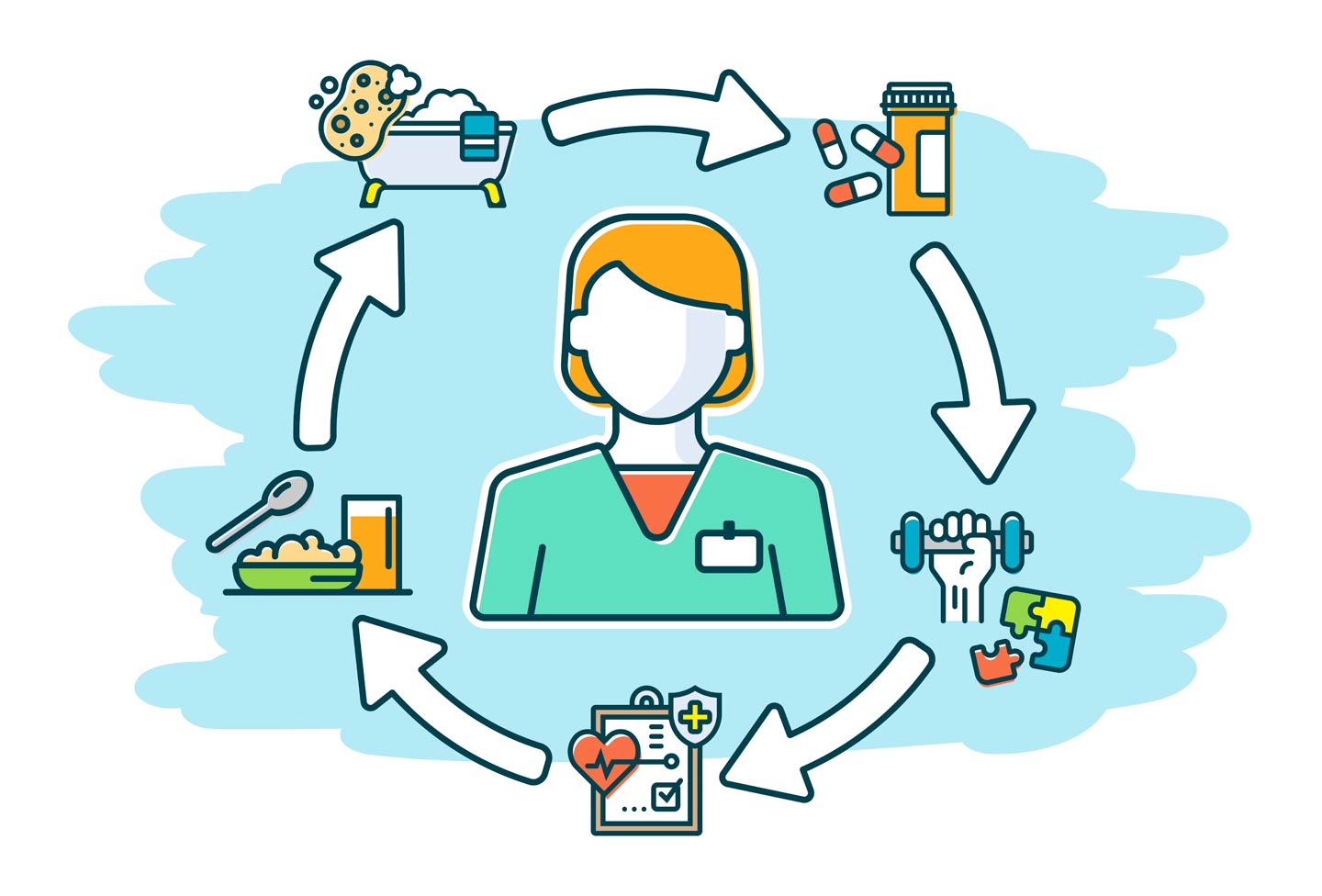 Our elders need excellent care.
That's always been true, and recent years have only shined a greater spotlight on the need for excellence in geriatric medicine. It's a critical part of the health care field, and geriatric nurses are the engine that drives care for the elderly.
Whether as a lifetime calling or just a season in a nurse's career, caring for the elderly is also tremendously rewarding, both personally and professionally. By working with patients with complex medical needs, you will grow and hone your skills as a nurse. Even more significantly, geriatric nursing is an opportunity to make a real difference in the lives of patients who need empathetic care now more than ever.
Geriatric Nurse Job Responsibilities
Geriatric nurses provide day-to-day direct care for elderly patients to maintain both their physical health and quality of life. Because elderly people often have complex medical needs, the responsibilities of a geriatric nurse are many. Core job responsibilities include:
Developing treatment plans for elderly patients in collaboration with physicians and other medical professionals.
Administering medications and medical devices.
Providing treatment for medical conditions that commonly affect the elderly, both cognitive (e.g. Alzheimer's disease) and physical (osteoporosis, arthritis, heart disease, diabetes, and so on).
Assisting with activities of daily living (ADL), such as bathing, toileting, dressing, eating, and drinking.
Monitoring for signs of infection, fractures, and other acute health issues and providing appropriate treatment.
Monitoring for signs of elder abuse and neglect.
Preparing and reviewing paperwork related to government regulations and insurance claims.
Educating patients and their caregivers on ways to handle age-related conditions.
These responsibilities can be quite taxing, both physically and mentally. Assisting patients with their activities of daily living often requires lifting or physically supporting them. Patients need to be turned in bed to prevent pressure ulcers (bedsores) from forming, and many require physical assistance with activities such as bathing or dressing. Part of the job of a geriatric nurse is to be an extra set of arms and legs for patients with limited mobility or coordination.
In addition, geriatric nurses need a deep well of patience, compassion, and empathy as they help their patients navigate the challenges of aging. Recognizing both verbal and nonverbal cues is essential to communicate effectively with patients who may have lost some of their ability to speak. Geriatric nurses must be prepared to listen sympathetically to patients who are frustrated with their own physical decline and may be uncooperative or even combative toward caregivers. However, beyond those challenges is the opportunity to form meaningful connections with patients, meet their complex needs, and grow as a nurse and as a person.
Where Do Geriatric Nurses Work?
Long-term care facilities are the most prominent employers of geriatric nurses, but any medical facility or agency that cares for elderly patients needs a geriatric nurse's skill set. Most geriatric nurses work in one of the following settings: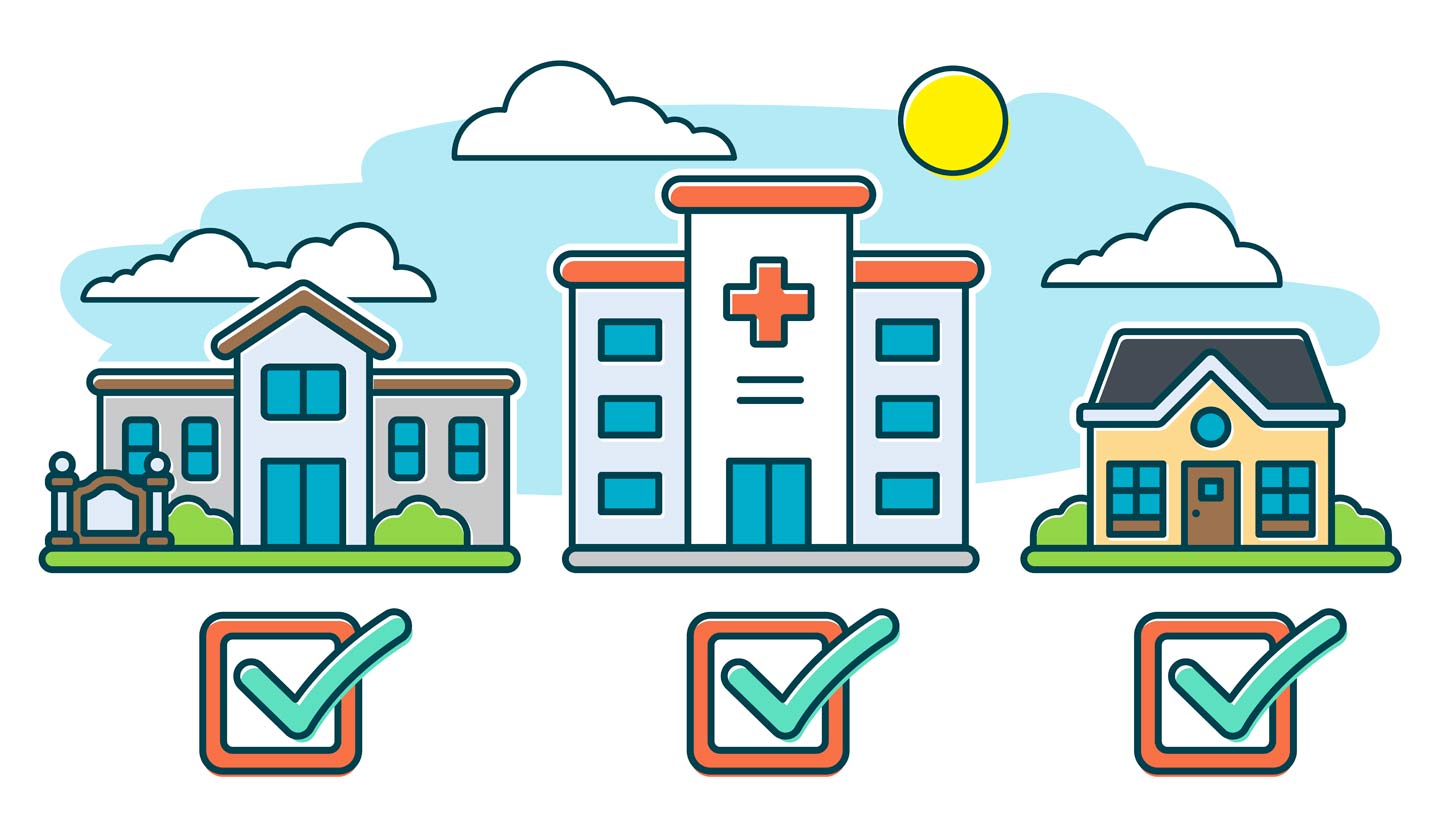 Nursing homes, memory care facilities, and similar sites. Geriatric nurses in long-term care create treatment plans, monitor patients for medical issues such as bedsores and infections, assist with rehabilitation, administer medications, and provide other medical care to residents as needed. Nursing homes are required by law to have a nurse on-site at all times, so there is a constant need for qualified nurses in this setting.
Hospitals and medical clinics that care for elderly patients. In addition to providing direct patient care such as medication administration, geriatric nurses in these settings help to educate elderly people and their caregivers about their care options.
Home health agencies that provide care to elderly and disabled patients in their homes, including those with permanent conditions such as dementia and paralysis. Geriatric nurses in these agencies help patients recover from surgery and medical procedures, provide medication administration, and assist with activities of daily living such as hygiene and nutrition.
These are the "big three," but there are numerous other opportunities for geriatric nurses across the health care industry. Geriatric nurses may work in government and academia, rehabilitation facilities, or private doctors' offices. They may work in the insurance industry or for medical supply companies. As the population continues to age, more and more organizations have a need for experts in geriatric care.
In nearly any setting, though, geriatric nursing often involves working with patients' families (such as adult children and even grandchildren) in addition to patients themselves. One of the more rewarding aspects of the career is the opportunity to form relationships across generations and see the difference good nursing care can make for both elderly patients and their families.
Career Benefits of Working With the Elderly
Elderly patients have complex medical needs. Many are on multiple medications and suffer from both physical and cognitive conditions. Diagnosing and treating an elderly patient is often challenging and requires critical thinking on the part of the geriatric nurse. Physiological differences play a role; for instance, elderly people often have lower baseline body temperatures than the general population, so an aging patient with a seemingly normal temperature may actually be feverish. Likewise, cognitive decline presents challenges in caring for the patient's physical health: if a patient struggles with speech or memory, diagnosing physical conditions based on the patient's self-reported symptoms may be impossible.
The upshot of these challenges is that they force the geriatric nurse to develop strong treatment skills and pharmacological skills when working with these patients. There is no better real-life laboratory to grow as a nurse than working with elderly patients who have multiple medical conditions, and those skills are transferable to most health care settings.
Beyond those "hard" skills, geriatric nurses need to develop their patience, understanding, compassion, and bedside manner. There are numerous challenges and barriers to communication for elderly patients, including difficulties with speech, memory loss, and cognitive decline — not to mention the inherent challenges of the generation gap between aging patients and nurses who may be several decades younger. Bridging that gap means learning to communicate with all sorts of patients, listen actively and empathetically, and take adversity and even combativeness in stride.
In short, working with the elderly is an incredible opportunity to grow as a nurse, while making a meaningful difference for an under-served population.
How to Become a Geriatric Nurse
Employers generally prefer to hire registered nurses who hold a Bachelor of Science in Nursing (BSN) compared to just holding an Associate Degree in Nursing (ADN).
If you want to become a geriatric nurse after earning your BSN, it's a good idea to take elective classes on the unique needs of aging adults. Coursework in critical care nursing is important, too, because it prepares aspiring geriatric nurses for the types of illnesses and interventions that are often needed by geriatric patients.
It's typically not hard to find a job in geriatric nursing once you have your BSN; the job is in high demand and that demand will only grow over time. According to the Bureau of Labor Statistics, overall employment in nursing jobs is expected to grow by 7% from 2019 to 2029, faster than the national average. The BLS notes that one of the main drivers of the increase in demand for health care workers is the aging population. This means trained and experienced geriatric nurses will be increasingly important in the field.
Many employers will hire geriatric nurses straight out of nursing school, especially if they have sufficient critical care experience. The more bedside experience you have, the more opportunities will be open to you.
Aspiring geriatric nurses need to pass the National Council Licensure Examination (NCLEX) examination to become a registered nurse. While not required, many pursue additional certification: the American Nurses Credentialing Center (ANCC) offers the Gerontological Nursing Certification (GERO-BC) to eligible nurses. In order to be eligible for this certification, you must have:
A current, active RN license in any U.S. state or territory (or the equivalent in another country).
The equivalent of two years of full-time practice as a registered nurse.
A minimum of 2,000 hours of clinical practice in gerontological nursing in the last three years.
30 hours of continuing education.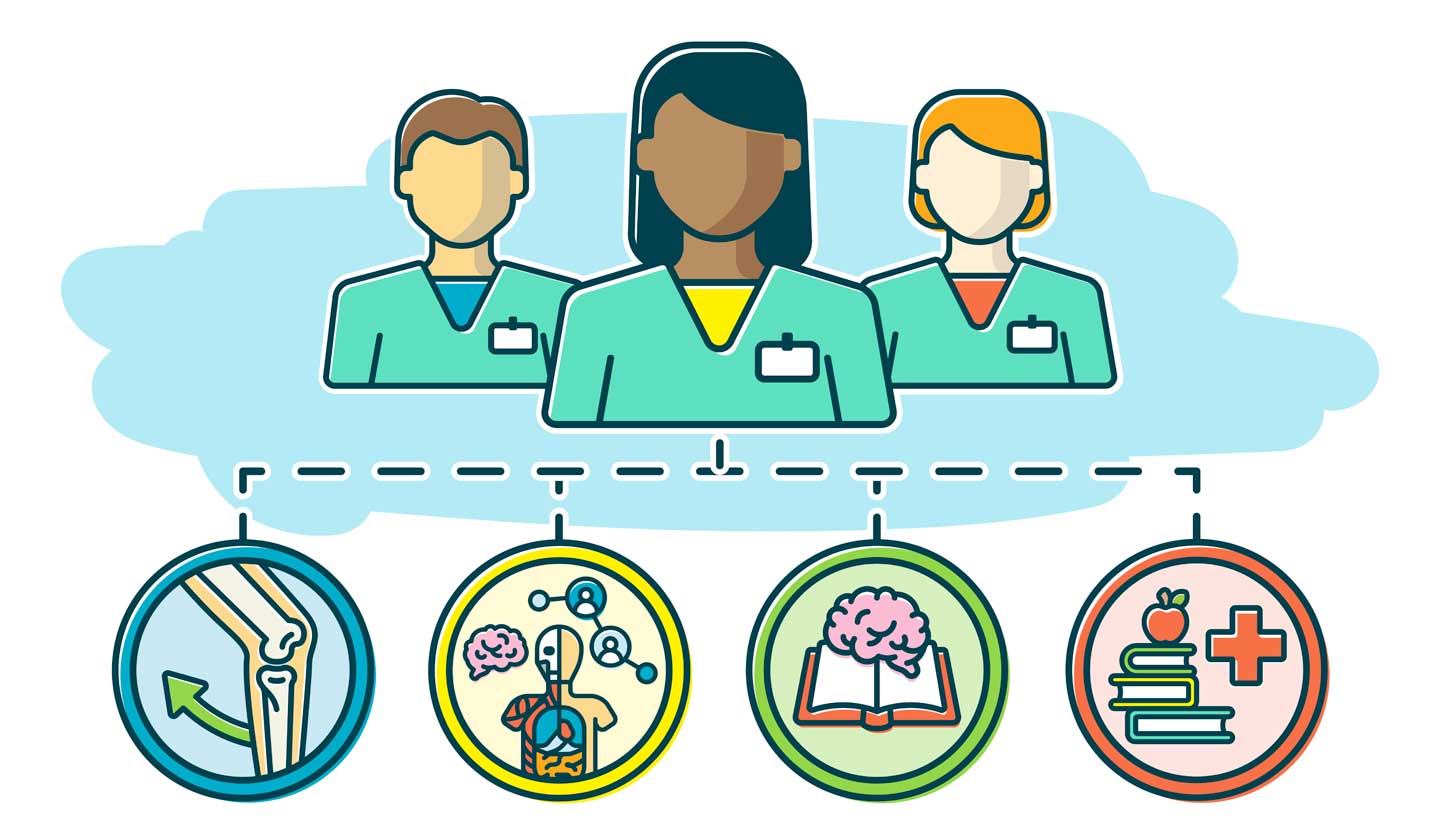 Career Outlook for Geriatric Nurses
The long-term career outlook for geriatric nurses is bright. As the population continues to age and more and more people transition into elder care facilities, more nurses will be needed to provide skilled nursing care. The health care industry in general and the geriatric care industry in particular are growing quickly, and the need for skilled nursing staff will only increase as patients' needs grow more complex and care methods and technology become more advanced.
A geriatric nurse with a Bachelor of Science in Nursing (BSN) is well-positioned to pursue continuing or graduate education and explore additional career opportunities over time. An experienced geriatric nurse may have the opportunity to move into a leadership role in geriatric nursing, such as director of nursing at a long-term care facility, or transition into a different nursing specialty. Some natural long-term career paths for geriatric nurses include:
Orthopedic nurse: Skilled nurses are needed to care for patients with musculoskeletal problems and improve their mobility and independence. Musculoskeletal problems are most common in the geriatric population, so nurses with a background working with older patients can easily transition into this specialty once they have the right certification.
Adult-gerontology nurse practitioner: Increasingly, nurse practitioners are providing primary care services to many patient populations, including in senior communities. Becoming a nurse practitioner requires a master of science in nursing (MSN) and a national certification exam. An adult-gerontology nurse practitioner can work in private practice in addition to seeking employment in a health care facility.
Nurse researcher: Researchers with a background in geriatric nursing are well-suited to conduct research on disorders that affect seniors, such as Alzheimer's and dementia, and the need for research in this field is only going to grow. Becoming a researcher typically requires a graduate degree.
Nurse educator: The next generation of nurses will likewise need to work with an aging population, and that means they will need to learn from people with firsthand experience. To become a nurse educator, you need a Master of Science in Nursing (MSN) degree with an appropriate specialty.
Take the Next Step in Your Nursing Career
Whether geriatric nursing is your long-term path or merely one season of a multifaceted nursing career, your time caring for the elderly is time well spent. Being a geriatric nurse means honing your communication skills and bedside manner. It cultivates tremendous patience, empathy, and compassion. While it's challenging and sometimes heartbreaking work, caring for elderly patients is also an opportunity to form strong, meaningful relationships across generations and access the years of experience, stories, and perspectives that our elders have.
For people with the right skills and right mindset to succeed, caring for the elderly is incredibly fulfilling. To provide high-quality care and improve outcomes in elderly patients with complex medical needs, you need to sharpen your nursing skills by learning from instructors with real-world experience. Take your next step, in balance with your career and home responsibilities, with the online RN to BSN program at Methodist University. Interested in other health care degrees? Explore all the online health care programs we offer at Methodist University.
Recommended Articles
View All