100% Online MEd in Educational Leadership: Instructional Technology
An Online Degree for Teacher Leaders
Request More Information
If you'd like to learn more about Methodist University's application process, admissions requirements, tuition and financial aid or specific program details, fill out this form, and we'll be in touch shortly.
Duration

2 years

Cost per Credit

$545

Credit Hours

36
Program Benefits
100% online
No application fee
No GRE/GMAT required
Two capstone courses
An ISTE-Aligned Master of Education
Complete Methodist University's 100% online Master of Education in Educational Leadership with an Instructional Technology Specialization to advance in educational leadership and gain knowledge of the best practices for integrating technology in the classroom. In this program built by expert educators, you'll explore the integration of technology in assessment, differentiation, personalization, and more. Graduate ready to grow your impact with 21st century leadership skills.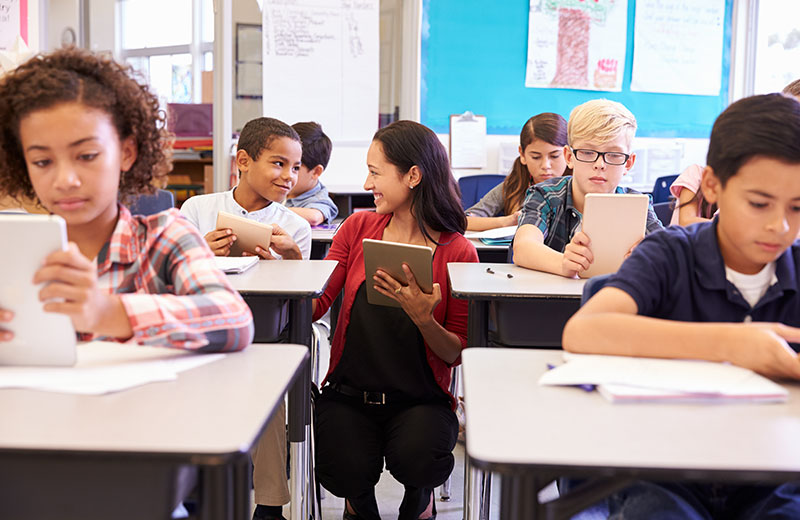 Advance in Educational Leadership
There is an increased demand in the education profession for leaders who are proficient in the use of instructional technology. With a 100% online master's degree from MU, you'll be prepared to successfully integrate educational technology and lead improvement efforts in your school.
Upon graduation, you'll qualify to pursue careers such as instructional designer, director of instructional technology, and instructional design manager with salaries ranging from $66,5241 to $82,9092.
Careers Outlook
Instructional Technology Degree Online
MU's 100% online MEd in Educational Leadership includes an Instructional Technology Specialization, which prepares students to intentionally integrate technology in education with techniques for assessment, engagement, differentiation, and more. Complete this 18-hour specialization to graduate with your master's degree and pursue educational technology roles.
Online Courses Led by Expert Educators
Studying online under the guidance of Methodist University's expert educators, you'll complete 36 credit hours to earn your master's degree. Develop the skills necessary to lead school improvements and skillfully use technology in instruction through online, asynchronous (on your schedule) courses designed for your busy lifestyle.
Course topics include:
High Impact Leadership in 21st Century Schools
Diverse Perspectives on Issues and Trends
Methods for Instructional Technology
Digital Citizenship
View the Complete Curriculum
Apply to the Online Educational Leadership Program
Apply Now
Official transcripts from each institution attended
Two letters of recommendation
A typed personal statement
Learn more about the admission requirements for this program, and start the application process today.
View the Application Process
An Affordable Online Master's Degree
Transfer up to nine credits*
Methodist University's 100% online MEd in Educational Leadership with an Instructional Technology Specialization costs $545 per credit hour and includes 36 total hours. If you or a family member are a veteran or active-duty service member, your education at Methodist University could be even more affordable. Visit our Military Support page to learn more.
Learn More
Program Outcomes
As a result of the Master of Education in Educational Leadership with an Instructional Technology Specialization program, you will:
Develop a strong pedagogy reflected in the intentional use of technology in the classroom
Collaborate with a personal learning network to improve practices within a classroom of diverse learners
Apply International Society for Technology Standards (ISTE) Standards for Educators and research to classroom practices
Reflect upon and improve the use of educational technology in a classroom
Design technology-based strategies and an environment to help accommodate the needs of every learner
Advocate for quality-based, integrated technology strategies in every classroom
Create and present a digital portfolio with 9-14 artifacts connected to ISTE Standards for Educators.
Faculty Spotlight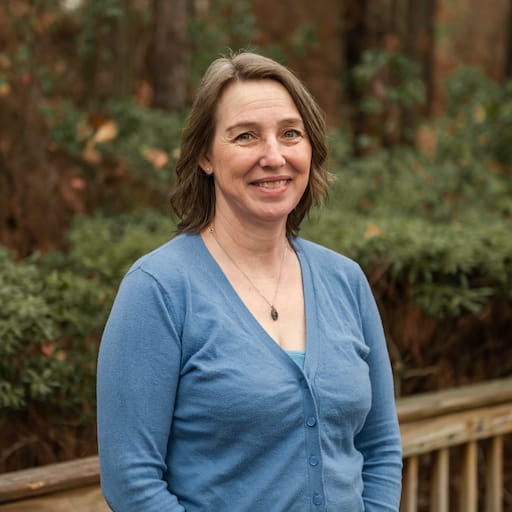 Heather M. Kaiser, Ed.D., Adjunct Professor
Heather Kaiser holds a B.S. in Elementary Education and Educational Ministry from Houghton College. Kaiser began her teaching career at Pauline Jones Elementary School in 1998 after moving from Southwestern NY to Fayetteville, NC. Over the years, Kaiser has taught children at almost every grade level from Kindergarten through 5th grade. In 2002, she received her M.Ed. in Educational Technology through Lesley University as well as achieving National Board Certification as a Middle Childhood Generalist.  
In 2011, Heather was the successful recipient of the highly competitive Burroughs Wellcome Career Award for Science and Math Teachers (CASMT, now known as CAST). With the award, Kaiser developed "Stimulating Science Simulations" that engage students in learning about careers in Science, Technology, Engineering, and Mathematics through inquiry-based investigations embedded within role-play. These units were shared freely with other teachers via the Internet; making them easy to replicate in any classroom and on any budget. 
Capitalizing on the support and funding of the Burroughs Wellcome CAST award, Heather completed her doctoral studies with Northcentral University in 2017, with a specialization in e-learning. Her dissertation focused on supplementing formal teacher professional development with informal social media, specifically edchats on Twitter. Dr. Kaiser is frequently sought after to provide both face-to-face and online staff development that spans a variety of topics such as using quality tools, infusing rigor, best practices for teaching science, incorporating technology and mentoring beginning teachers. She has created dozens of  "webinars" to assist teachers with the implementation of technology and replication of her teaching models.  
Student-Centered Faculty
Methodist University's diverse, expert faculty add quality to our programs with their extensive experience. They are invested in MU students and understand the importance of helping them prepare for the real world. At MU, you can expect:
Low student-to-faculty ratio
Relevant experience
Personalized feedback
Expert guidance
Learn From Teaching Experts
Our faculty are certified educators in the areas in which they teach. MU instructors are full-time university professors as well as adjunct faculty currently working in the public school system. This combination of perspectives gives you access to current research and connections to relevant K–12 practices in the field.
Our 100% online Master in Education program is grounded in coaching and mentorship. Our dedicated instructors will work closely with you to offer guidance and provide feedback and support throughout your program.
Personalized attention
Relevant experience
Remote coaching sessions
Real-time feedback
Why Study Online?
Enjoy an online learning environment that offers the same quality as in-person courses, including dedicated faculty members and an overall caring, friendly atmosphere for achieving your professional and personal goals.
You'll also have access to all academic support services. That means you'll get personalized assistance you need, such as access to the tutoring and writing centers. Experience a distinctive education in a flexible environment that fits your schedule.
Explore Online Learning
Those who hold a MEd in Educational Leadership with a specialization in Instructional Technology often pursue career titles such as instructional designer, technology director, and e-learning specialist with salaries that range from $61,836 to $107,755, according to data from Payscale and the U.S. Bureau of Labor Statistics. Learn more about your career options by visiting our careers page.
Yes, this MEdIT program allows up to 9 credit hours of equitable graduate-level work to be transferred as credit for this degree. Courses may only be transferred to fulfil the Core Course requirements.
Yes, the online degree is regionally accredited by the Southern Association of Colleges and Schools Commission on Colleges (SACSCOC). This program is pending NCDPI (North Carolina Department of Public Instruction) approval, which Methodist University is seeking.
It has been designed to NCDPI and ISTE standards and requirements.
Methodist University offers multiple start dates throughout the year, providing the flexibility to begin the MEd in Educational Leadership with a specialization in Instructional Technology program on your schedule. To explore your options, request more information, call 910.212.4956, or view the academic calendar on our Admissions page.
No, prior work experience is not required. You can learn more about our requirements on the admissions page.
Visit our FAQ page
Sources and Disclaimer
"Average Instructional Designer Salary. Payscale. Retrieved on Dec. 15, 2022 from "https://www.payscale.com/research/US/Job=Instructional_Designer/Salary."
"Average Instructional Design Manager Salary." Payscale. Retrieved on Dec. 15, 2022 from "https://www.payscale.com/research/US/Job=Instructional_Design_Manager/Salary."
*The Master of Education in Educational Leadership with a specialization in Instructional Technology (MEdIT) allows only nine credit hours of equitable graduate-level work to be transferred as credit toward the degree program. Students who have completed the EDU 5010/EDU 5020 Methods for Instructional Technology Parts 1 and 2 Courses (with a B or higher) at Methodist University as part of the Post-Baccalaureate Residency Licensure Certificate Program (previously numbered EDU 5510 and EDU 5520) will have completed three credit hours toward the MEdIT.