Online BS in Marketing: Health Care Administration Concentration
Stand Out with MU's Specialized, 100% Online Marketing Degree
Google Certification Preparation
Request More Information
If you'd like to learn more about Methodist University's application process, admissions requirements, tuition and financial aid or specific program details, fill out this form, and we'll be in touch shortly.
Duration

3.5 years

Cost per Credit

$435

Credit Hours

124
Program Benefits
Google AdWords certification opportunity
Transfer up to 93 credit hours
Expert faculty offer hands-on experiences
Eight-week terms
Apply Your Skills as a Health Care Marketer
Marketing is a vital part of any organization but even more critical in the health care arena. You can reach audiences with traditional and digital messaging that literally saves lives.
With Methodist University's 100% online Bachelor's in Marketing degree with a Health Care Administration Concentration, you'll adopt leadership skills combined with the latest marketing technology skills needed to make a difference on any team. Further, you'll enter a field ripe with available leadership roles, with a much faster-than-average job growth rate of 32%.1
Begin a successful career with the ability to run marketing analytics reports to prove your strategies to stakeholders, resulting in effective business decisions. Enter management-level roles in marketing upon graduation to promote wellness.
Go Further in a Lucrative Career Field
Discover what you can achieve as a marketer or health care leader with MU's health care marketing degree program. Not only will you prepare for a rewarding career in management or administration, but you will enjoy considerable employment stability. For instance, you can prepare to become a medical and health services manager, a role with 32% projected employment growth from 2019 to 2029.2
Medical and Health Services Manager
$100,980/year
This concentration offers courses from MU's online health care administration degree program, helping you prepare to oversee the operations of health care facilities.2 After graduation, you could manage teams in numerous settings, including hospitals or urgent care centers.
Health Care Marketing Director
$72,582/year
By earning your health care marketing degree, you could harness your marketing ingenuity to lead branding or promotional efforts for a hospital, insurance company, or other health care organization.3
Marketing Manager
$136,850/year
Acquire the analytical and strategic prowess to develop health products, build brands, and attract loyal consumers. What's more, you could apply your finance and technical savvy to improve marketing operations and make a company profitable.4
Attain your health care marketing degree to prepare for an array of in-demand roles:
Email marketing specialist
Market research analyst
Product manager or designer
Sales manager
Search engine marketer
Social media marketing manager
Training and development specialist
Web-based marketer
Explore Careers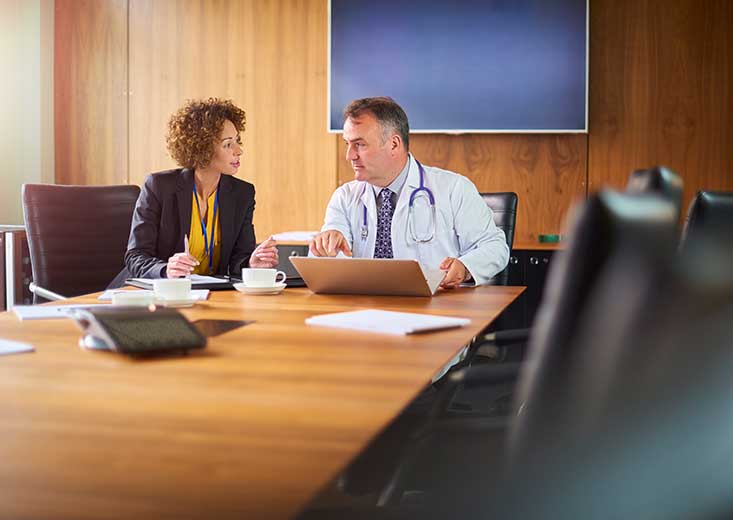 Curriculum: Study Marketing Through a Health Care Lens
This concentration builds on the curriculum in MU's BS in Marketing with courses found in other leading online health care administration degree programs. Engage in online health care administration courses focusing on the competencies needed to direct a health care organization. Plus, prepare for your desired career with electives in informatics, organizational behavior, and health care policy.
Course Spotlight: HCA 3050 Managing Health Care Organizations
Gain a firm understanding of the fundamental tools, applications, and principles that drive successful managers in the health care sector. Complete this course to begin acquiring the managerial, problem-solving, and critical thinking skills needed to oversee a modern health care organization.
Preview Courses
Course Spotlight: HCA 3500 Economics and Finance of Health Care Organizations
Discover the economic and financial conditions that shape how health care organizations operate. You will study how insurance companies, capital financing, regulations, state governments, and other factors affect a health facility's bottom line.
Frequently Asked Questions
If you have additional questions about Methodist University's online Bachelor of Science in Marketing program, request more information or call 910.212.4956.
You can complete this online program on a full-time or part-time schedule. This flexibility allows you to continue working while pursuing your BS in Marketing degree. Visit the courses page to review the curriculum for this online program.
The estimated total tuition for the BS in Marketing program is $53,940. This program includes 124 credit hours, and the cost per credit hour is $435. Note that this estimate does not include fees or other costs you may incur. Additionally, more than 97% of students receive significant financial aid to reduce this program's "sticker price" of $53,940, which raises the value of your education.
For more information about tuition, additional costs, and financial aid options, please visit our tuition page.
*This is an estimate of the total tuition based on the current school year and is subject to change.
Yes! Methodist University's Reeves School of Business is nationally accredited by the Accreditation Council for Business Schools and Programs (ACBSP) to offer the BS in Marketing program. Additionally, Methodist University is accredited by the Southern Association of Colleges and Schools Commission on Colleges. As such, you can trust the BS in Marketing program to offer a rigorous learning experience that serves as a foundation for a career in marketing, advertising, and related fields.
To gain admission into the program, you must provide:
A high school diploma or GED
Methodist University requires the submission of a copy of all previous unofficial transcripts (High School and Colleges/Universities) for acceptance and admission. The initial review process allows unofficial transcripts to be utilized, which can lead to a provisional acceptance if admitted. *Official Transcripts will be required to remove the provisional status and receive full acceptance. Please reach out to your Enrollment Counselor to discuss our Transcript Ordering Service which can obtain transcript records on your behalf
Click here to learn more about the admissions process.
You can transfer up to 93 credits from a regionally accredited university. That represents 75% of the requirements for earning your BS in Marketing degree. To review the eligibility requirements, request more information or call 910-212-4956 to speak with a knowledgeable counselor.
This online program includes a total of 124 credit hours. To help you graduate faster, you can transfer up to 93 credits (75% of the program) toward your degree. To review the curriculum details for this program, visit the courses page.
Visit our FAQ page