Online BS in Psychology: Counseling/Clinical Psychology Concentration
Help People Face Life Issues or Psychological Disorders
Take a deeper look at how psychology applies to common problems in living and to psychological disorders. It's ideal for tailoring your psychology degree toward a future as a counselor or therapist. The skills you'll learn will also help with working in the autism and substance abuse treatment fields, as well as opportunities in school systems and with community mental health services.
Learn More Today
Complete the form to learn more about this program.
Duration

3.5 years

Cost per Credit

$400

Credit Hours

124
Program Benefits
100% online
Application fee waived
47 semester hours in concentration
Courses include theories of personality, psychological counseling, and abnormal psychology
Combining Two Major Fields in Psychology
This concentration combines counseling and clinical psychology, which are two of the most obvious fields in psychology. These fields are ideal if you're interested in continuing onto graduate school to work as a type of therapist. Additionally, of course, you'll have plenty of opportunities right away to help people.
Career Outlook: Prepare for a Future of Helping Others
Choosing to hone your degree in counseling/clinical psychology lets you consider employment in a wide range of community and social service occupations, where jobs are projected to grow 11% by 2028.1 The concentration truly shines if you know you want to work closely with others. Get the key skills you need that, with or without graduate school, prepare you to help people achieve their goals in a clinical, school, or community setting.
Substance Abuse, Behavioral Disorder, and Mental Health* Counselors
$46,240/YEAR
Help people to cope with a variety of mental or behavioral problems.
*Note that mental health counselors typically need at least a master's degree.2
Social and Community Service Managers
$67,150/YEAR
Oversee social service program and a community organization. In this role, you'll plan outreach activities, write proposals for funding, and more to enhance the organization's impact in the community.3
Here are some positions you could qualify for with this concentration and degree:
Assistant behavior analyst
Business administrator
Case manager
Human resources manager
Psychiatric technician
Rehabilitation specialist
School counselor
Top- or mid-level manager
Explore Careers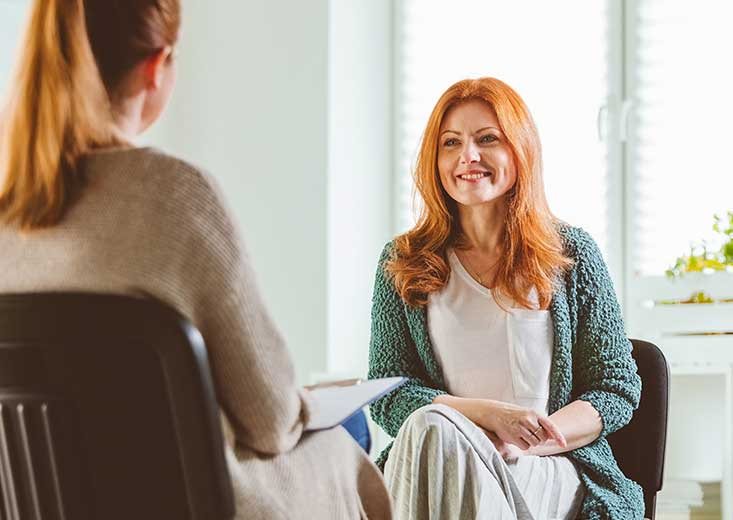 Curriculum: Critical Knowledge and Skills
Learn about abnormal psychology, human development, and other core topics as you gain skills in diagnosis, clinical interview procedures, behavior analysis, and more. This specialization gives you the foundation needed to pursue a future in various areas of counseling or clinical psychology.
Course Spotlight: PSY 3410 Abnormal Psychology
Abnormal behavior and mental processes. Topics include the distinction between normality and abnormality, the classification and diagnosis of psychological disorders, the neurotic and psychotic disorders, and the major therapeutic approaches.
Preview Courses
Course Spotlight: PSY 3300 Psychological Counseling
Development of basic skills used in all helping relationships and those used specifically in psychological counseling, an attainment of a general understanding of the major theoretical approaches to counseling, and knowledge concerning the interventions associated with each of the major theoretical approaches.